American University Creates the Sine Institute of Policy and Politics Launched at the Newseum by AU President Sylvia M. Burwell and US Senator Bob Corker
American University President Sylvia M. Burwell announced today the launch of the Sine Institute of Policy and Politics. Capitalizing on AU's distinctive location in the nation's capital, the Institute will bring together experts and top scholars in the field with students in research and scholarship to work on the nation's most pressing challenges in a way that promotes common ground and bipartisan policy solutions. A laboratory for university-wide collaboration and an incubator for policy innovations, the Sine Institute will convene leaders from the public, private, and nonprofit sectors and journalism to foster an exchange of ideas and engage in research around the complex drivers shaping policy and political discourse.
The Sine Institute is made possible through a milestone gift of $10 million from AU alumnus, trustee, and entrepreneur Jeff Sine, SIS/BA '76, and Samira Sine, an advocate for women and children and a seasoned journalist. The gift is the manifestation of the Sines' interest in making positive change that will inspire future generations of leaders.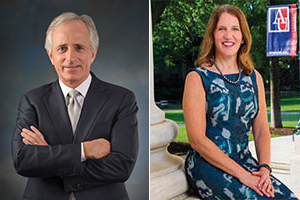 The Sine Institute launches with a conversation between AU President Sylvia M. Burwell and Senator Bob Corker (R-Tenn.) at 1:45 p.m. ET (updated) at the Newseum in Washington, DC, on Tuesday, September 25, 2018. The discussion will be webcast on the Sine Institute website.
"We aim to raise the quality and impact of the study and practice of policy and politics, as we bring together professionals at the top of their fields, scholars, and students," said AU President and former Department of Health and Human Services Secretary Sylvia M. Burwell. "The Institute will take full advantage of our location in the nation's capital and growing business community. Our focus on policy will catalyze conversations on the substance, as well as the politics."
The Sine Institute stands apart from other centers through its focus on policy and politics, the role of business and the nonprofit community in public policy, the rise of the importance of economic regions in the United States, and international policy issues.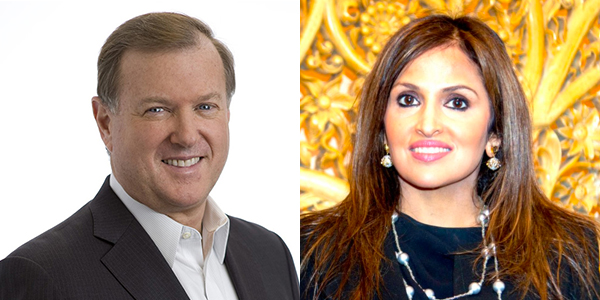 "Through this gift we wanted to empower American University to make an immediate and lasting impact at the intersection of politics and policy, increasing AU's national and international visibility," said Jeff and Samira Sine.
With the launch, six initial members of the Institute's Advisory Board are also being announced:
Michèle Flournoy, former under secretary of defense for policy (2009-2012) and current CEO of WestExec;
Danielle C. Gray, former assistant to the president and cabinet secretary in the Obama administration and current senior vice president, chief legal officer, and corporate secretary for Blue Cross and Blue Shield of North Carolina;
Anita McBride, former assistant to President George W. Bush, former chief of staff to First Lady Laura Bush, and current executive-in-residence at AU's School of Public Affairs;
Deval Patrick, former governor of the Commonwealth of Massachusetts (2007-2015), and current managing director at Bain Capital's Double Impact business;
Frances Townsend (AU SPA/BA '82), former assistant to the president for homeland security and counterterrorism (2004-2008) and current national security analyst on CBS News; and
Philip Zelikow, former counselor of the United States Department of State, former executive director of the 9/11 Commission, and current professor of governance and history at the University of Virginia. 
Over the coming months, we will announce additional advisory board members representing business, the arts, nonprofit sectors, regional leaders, and bipartisan perspectives.
A cornerstone of the Sine Institute is its fellowship program. Each spring, the Institute will host six in-resident fellows from the US and around the world, bringing expertise from all levels of government service, politics, journalism, the nonprofit sector, and business. The fellows will collaborate with students and AU scholars to uncover new ways in which theory will inform cross-sectoral solutions. Fellowship applications are now being accepted, and the search is underway for an executive director who will lead the Institute's fellows and programs.  
"The Sine Institute will drive powerful conversations by drawing from expertise from across campus and around the world," said Vicky Wilkins, dean of AU's School of Public Affairs.  
As a university-wide effort, the Institute will collaborate with other schools on campus, including the School of International Service, the School of Communication, the Kogod School of Business, and the Washington College of Law, fostering an environment that facilitates ongoing exchange to gain insights and engender knowledge. 
In its 125-year history, American University has established a reputation for producing changemakers focused on the challenges of a changing world. AU has garnered recognition for global education, public service, experiential learning, and politically active and diverse students, as well as academic and research expertise in a wide range of areas including business and communication, political science and policy, governance, law, and diplomacy.
Established in 1934, AU's School of Public Affairs, home of the Sine Institute, is ranked third in the US and first in the DC area for public affairs research impact. Its faculty members are leading scholars in public policy, public administration, political science, criminology, and other complex fields.
The start time for the Newseum event has been adjusted from 1:30 p.m. to 1:45 p.m.