Government & Politics
Stacey Abrams Continues to Fight for Voter Rights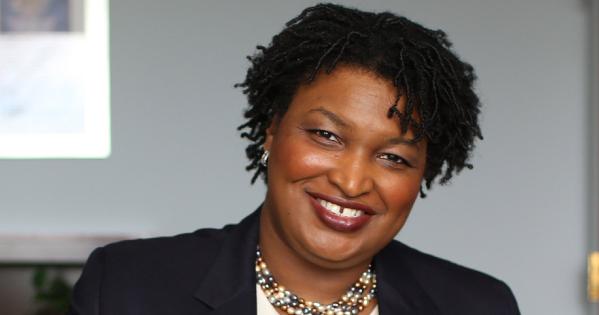 Stacey Abrams made it clear during a conversation with AU students on Monday that, despite electoral successes in her home state, work on voting rights remains far from over.
Abrams, a former Georgia gubernatorial candidate and Democratic minority leader in its House of Representatives, joined the Kennedy Political Union for a chat about expanding voting access and the work of her organization Fair Fight Action. WCL professor Lia Epperson, who has known Abrams for more than 20 years, moderated.
"Voting is not magic. Democracy is not magic," said Abrams, who also spoke at the 2019 SPA spring commencement speaker. "But it is the medicine we needed to start to treat the challenges and the ills of our society."
Pundits have widely credited Abrams with engaging voters and turning out a base in Georgia in 2020 that helped Joe Biden become the first Democrat to win the state's presidential election since 1992. Georgia voters continued the success by flipping both U.S. Senate seats to Democrats in January runoffs, electing Jon Ossoff and Raphael Warnock to replace Republican incumbents David Perdue and Kelly Loeffler.
The shift shocked many political observers. Georgia has voted Republican in every presidential election since 1996 and has elected Republican senators since 2005. Since 1960, the state only turned blue in presidential elections in 1992 when Bill Clinton won by less than one percent of the vote and when native son Jimmy Carter ran in 1976 and 1980. 
The New York Times reported Abrams' organization Fair Fight Action "inspired an estimated 800,000 residents to register to vote." 
"We'd like to think of ourselves as early Stacey Abrams fans, recognizing her power and incredible fortitude before the rest of the world quickly caught on to her extraordinary gifts," AU President Sylvia Burwell said when introducing Abrams. 
Abrams took an interest in voter access years before she became a national name. Her parents registered voters – her dad was arrested at 14 for doing so— in Mississippi during the Civil Rights Movement. She set up a registration table as a college student and continued her advocacy for voting access while she was an elected official in Georgia. 
"(My parents) took us with them to vote," Abrams told AU students. "And when we would ask about voting, they wanted us to understand that no matter what their circumstances were, they still have the right as Americans to demand more through the act of voting." 
But a narrow loss in the 2018 Georgia gubernatorial race to Republican candidate and then secretary of state  Brian Kemp became the spark creating Fair Fight. Abrams, the first black woman to become a gubernatorial candidate in the U.S., lost by two percent after Republicans had won by more than five points every year since 2002. 
Kemp, now governor of Georgia, oversaw the state's elections in 2018. His office removed more than 500,000 voters from its rolls in July 2017, which election law experts say "may represent the largest mass disenfranchisement in U.S.  history," according to the Atlanta Journal-Constitution. Kemp has denied he disenfranchised voters. 
Abrams said she mourned her loss for 10 days before announcing the creation of Fair Fight. 
"What fair fight was born out was me not winning," said Abrams, who created Fair Fight with AU alumna Lauren Groh-Wargo. "And not because I wanted to redo the election. I have no right to a victory. But, as a citizen, I have a right to a voice." 
Her organizational skills helped reach voters in all of Georgia's 159 counties. Fair Fight recruited and trained poll observers and held registration drives. Then, Fair Fight expanded to 20 states and sought to ensure all ballots received equal consideration, regardless of where someone lived or their circumstances. And the work increased participation from people of color. Abrams said she knew they couldn't eliminate voter suppression, so Fair Fight targeted barriers to voting. 
"What Fair Fight did in this election cycle, in coalition with so many, was to remind people of the urgency of their voices being heard," Abrams said. "We were facing three catastrophes— - an economic catastrophe, a healthcare crisis that was killing  thousands, and a racial reckoning that continues to reverberate. And those were three of the strongest motivating factors that we could communicate to people." 
Abrams told students how to stay motivated and upbeat despite such challenges, giving them three tenets to carry along: Remember why you're doing the work; take some time to grieve; plot your next move. She also told the students to find what issues motivate them. As a gubernatorial loser, Abrams said she should be "at best a footnote for someone on a trivia night 20 years from now," if not for her ambition and desire to push forward. 
"I figure out what else I can do because I refuse to believe that defeat is permanent," she said. "I have failed. I have lost. ...But I don't stop because, when I stop, it's because they've defeated me, and they've convinced me that my work isn't worth it. I refuse to let that be. ...I don't get to stop working. Because progress is possible. And more importantly, I don't let myself be convinced that I can't get it done. Because until I die, my job is to try to get it done."