In the Community
AU Students Celebrate Spirit of Service for MLK Day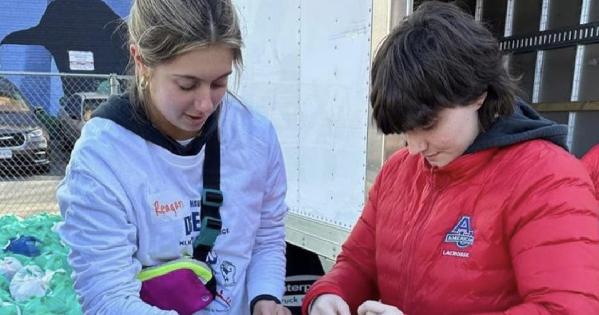 The daughter of Colorado State University professors, Josephine von Fischer, SPA/BA '24, recognizes the privilege of a comfortable upbringing. 
It's one of the driving forces behind her interest in community service. 
"As someone who is privileged, it's important to understand your [responsibility] to uplift people that are less privileged, and to fight the systemic processes keeping [them] from having equal access," said the CLEG major. 
Von Fischer was among more than 100 students who rolled up their sleeves on January 16 for the MLK Day of Service—now in its 20th year at AU. She served as a peer leader of a group of 30 students, which included the AU women's lacrosse team, who picked up trash at the Alliance for Concerned Men in Southeast DC. The Eagle volunteers also met with people involved with the 30-year-old nonprofit, which works to prevent youth crime and violence. 
"The day was a good practice in bonding with people in our community, and I think it was a real eye-opening experience for a lot of people," Von Fischer said.  
More than 2,000 AU students have volunteered over the life of the program, which is coordinated by the Center for Community Engagement and Service. Volunteers, which included President Sylvia Burwell, also packed groceries for seniors, organized clothes for refugees, and prepped literacy kits.
AU students, including the volleyball and soccer teams, fanned out across the the DMV to pitch in at five other community partners: 
SAMU First Response, which provides humanitarian assistance to asylum seekers 
Kid Power, Inc., which builds youth leadership through academics, wellness, and civic engagement 

We Are Family, which engages isolated seniors with services, advocacy, and companionship 

Martha's Table, which increases access to healthy food, along with physical and mental health services 

Horton's Kids, which provides education services to children from under-resourced communities, helping prepare them for college