Information for Parents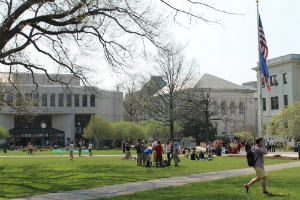 The transition from high school to college is often a challenging time for students. For students with disabilities, this transition can be even more difficult. In addition to the typical concerns about academic success, campus safety, roommate issues, and social adjustment, there may also be concerns about disability-related issues.
Prior to college, parents have often played a major role in advocating for their children's disability needs. Teachers, guidance counselors, and tutors may also have been involved and accessible. With these familiar support networks no longer in place, your son or daughter will need to find new support systems in college. You can help them prepare for that transition during the senior year of high school by having them gradually assume more responsibility for their disability-related needs.
As the parent of an AU student, you may have questions about your child's successful transition to college. The Academic Support and Access Center (ASAC) has compiled a list of FAQs to help clarify our services and procedures for students with disabilities hopefully to answer many of your questions.
We look forward to working with your son or daughter. If you have information you would like to share with us, or questions after reading the FAQs, we welcome your contact. 
FAQs
How do services for college students with disabilities differ from services provided in high school?
In the K-12 setting, students are primarily protected by the federal special education statute, the Individuals with Disabilities Education Act (IDEA). IDEA establishes specific minimal standards and procedural safeguards for educating children with disabilities, with the legal and financial burden falling on the school system. 
Once students enter the postsecondary setting, their legal rights fall under Section 504 of the Rehabilitation Act of 1973 (Section 504) and the Americans with Disabilities Act of 1990 (ADA). Section 504 and the ADA are often seen as civil rights laws that "level the playing field" by removing obstacles that prevent individuals with disabilities from participating in a program or activity.
It is not the university's responsibility to identify and provide services to students with disabilities, but rather to provide appropriate accommodations to ensure equal access. Accommodations are adjustments to the learning environment to ensure an equal opportunity for participation, e.g., extended time to complete an exam or the use of a computer. Accommodations must not fundamentally alter the essential requirements of a course or curriculum.
Does a student have to disclose a disability to the Academic Support and Access Center?
Students may enter the university with or without identifying their disability. However, if a student plans to request accommodations, documentation must be provided.
College work and life is a major transition from high school and compensatory strategies that worked in high school may no longer be successful. Once students confidentially self-identify and discuss appropriate accommodations with their ASAC counselor, they can choose to use them as they need to. Accommodations are not automatically provided in college.
How do you provide accommodations for students with disabilities?
The ASAC is the office on campus responsible for providing accommodations for students with disabilities. Students are encouraged to identify themselves and provide documentation to the ASAC as soon as possible once enrolled. Once classes begin, students can meet with a counselor who can work with the student to determine reasonable accommodations in their classes.
What is the Learning Services Program?
The Learning Services Program for Freshmen with Learning Disabilities is an optional, fee-based program that assists students with their transition from high school to college during their freshman year. Students with learning disabilities are not required to be in the program and may instead work with an ASAC counselor for academic support and accommodations. Students interested in the program must apply at the time of application to the university.  
How are accommodations for disabilities arranged?
Accommodations are made with the understanding that every student is held to the same academic standards even if a student may meet these standards through nontraditional means.
The first step is for the student to provide the ASAC with current documentation from a qualified professional, which will assist in determining reasonable accommodations at the university. Please refer to our guidelines for documentation of disabilities for further details. Students may send their documentation to the ASAC to be reviewed prior to their first semester at the university.
Next, a student will need to meet with an ASAC counselor to develop an accommodations plan. Accommodations decisions are made and coordinated by the student's ASAC counselor, based on a careful analysis of the impact of a student's disability in each class that is of concern to the student.
Each semester students seeking accommodations complete an ASAC form to request letters notifying their professors of approved classroom and test accommodations. Students are encouraged to meet with each faculty member in person to deliver the letter, preferably during office hours. Possible accommodations may include:
extended time on exams and quizzes
reduced-distraction space for exams and quizzes
computer for essay exams or in-class writing
assistive technology for exams
books in alternate format
note taker for lecture classes
Most students diagnosed with a learning disability or ADHD in childhood have been tested many times. Do you need current testing?
The ASAC realizes that once a student has been diagnosed with a learning disability or ADHD, the diagnosis generally remains with the student. However, the impact that diagnosis has on academic functioning may change as the individual gets older and gains experience. Therefore, documentation needs to reflect the "current" status of the student's functional limitations and should explain why a student needs the accommodations requested. The generally accepted standard in the field for documentation is three to five years. For entering freshmen, the evaluation should be administered no earlier than the sophomore year of high school. For adults and nontraditional students, documentation guidelines may vary.
Can an IEP or 504 plan be used as documentation of a learning disability or ADHD?
An IEP is an Individualized Education Program, designed to provide appropriate services for students in K-12. An IEP or 504 plan may be submitted in addition to a psychoeducational evaluation but not in lieu of an evaluation. If recent test scores and a psychologist's report is included in the IEP, that document may be sufficient.
Does the Academic Support and Access Center have assistive technology?
Many students with disabilities benefit from assistive technology, particularly for reading and writing. A student with a documented disability may ask for a referral to the assistive technology specialist. The specialist can provide a needs assessment and specific technology training. The two most common software programs used by students with learning disabilities are Kurzweil, a sophisticated screen reader, and Dragon Naturally Speaking, a voice recognition software. If your son or daughter is accustomed to using recorded books, an individual membership in Recording for the Blind & Dyslexic (RFB&D) is recommended.
What resources are available to help students with math difficulties?
The university has a mathematics requirement for graduation with a minimum of one semester of Finite Mathematics. A designated section of Finite Mathematics: Elementary Models is offered for students with a learning disability or ADHD that impacts their performance in math classes. Admission to this class is through the ASAC. Additionally, the Department of Mathematics operates a free Mathematics and Statistics Tutoring Lab and the ASAC makes referrals to peer tutors who charge a nominal fee. ASAC counselors can also make referrals to professional math tutors in the Washington area, on the request of a student.
Can my son or daughter get accommodations on the math placement test that is given prior to registering for classes?

Yes. To request accommodations on the math placement test, documentation must be submitted to the Academic Support and Access Center in advance of taking the exam. The student can then send an e-mail to asac@american.edu to request specific accommodations on the placement test.
My child had his foreign language requirement waived in high school due to his learning disability. Does American University require a foreign language for admission or graduation?
There is an admissions requirement of two years of the same foreign language at the high school level. With appropriate documentation of a language learning disability and a waiver of foreign language from high school, this requirement may be waived on a case-by-case basis. Although there is no university foreign language requirement for graduation, the School of International Service requires the study of a foreign language for its major course of study.
My child currently takes medication for ADHD or another medical condition. Can these medications be monitored at college?
ASAC counselors can speak to students about their medication needs and help them find appropriate resources, either on campus or in the Washington area. We encourage students to work with a local psychiatrist who is familiar with both ADHD as well as issues facing college students. There is a part-time psychiatrist in the Student Health Center who may be able to provide medication management. The ASAC and the Counseling Center also have referral lists of psychiatrists in the community. It is important for students to maintain regular appointments with a psychiatrist, especially during the first few months at college, when medication needs may change due to varied demands.
My son or daughter also has a diagnosis of anxiety or depression. What resources are available?
Any student at American University may make an appointment in the Counseling Center. The student and counselor will discuss the student's concerns and what resources might be of help in resolving them. 
The Academic Support and Access Center can work with students with psychological, medical, or physical disabilities if they might need accommodations based on specific diagnoses.
The Student Health Center psychiatrist may also be able to assist with medications.
I think my son or daughter has a learning disability. Can the ASAC provide testing?
The university does not provide evaluations for ADHD or learning disabilities. Counselors can, however, meet with students individually to conduct an in-depth screening to assess the nature of a student's concerns and make referrals to qualified professionals in the Washington area if testing is warranted.
Who has access to a student's file?
The university complies with the federal law, Family Educational Rights and Privacy Act of 1974 (FERPA), which protects the privacy of students' educational records. Information in ASAC records about a student's disability and accommodations, if any, is treated as confidential. With a student's permission or on a need-to-know basis, a counselor may consult with faculty and staff. The most common type of communication is with a student's professor or academic advisor. Once the ASAC has disclosed information about a disability, the recipient of that information also has a responsibility to protect confidentiality.
I would like to get information about how my son or daughter is doing, but I don't want you to let them know I called. Is this OK?
In order to protect a student's right to privacy and to help a student develop a productive relationship with an ASAC counselor, our interactions with students in the ASAC are confidential. Therefore, if your son or daughter would like us to be able to communicate directly with you, he or she must give us written permission to do so. We hope parents will discuss expectations around the communication process with their son or daughter before they leave for college. Before contacting an ASAC counselor, we encourage parents to first speak to their son or daughter about the conversation they plan to have. 
It is our policy to discuss all communication about a student, whether with a professor, advisor, or parent, with the student. We are sensitive to the varying relationships between parents and students and will do our best to support productive communication. It is, of course, important to keep the lines of communication open between all involved parties and we encourage students to communicate directly with their parents.
Do you contact us if our son or daughter is having academic difficulties?
The ASAC staff will not initiate contact with parents except under very rare circumstances. Our goal is to help students be academically successful by providing them with strategies and opportunities to try them out with support. In particular, we work with students to assess a situation, identify appropriate methods with which to proceed, and then apply their strategies. We often refer students to other resources on or off campus. If you are concerned about your son or daughter, you are welcome to call an ASAC counselor to pass along your information. If your student is being seen in the ASAC, such information can be helpful. Personal concerns may also be shared with an academic advisor or in the Office of the Dean of Students.
Can I make an appointment with a counselor for my student?
University students must request services and follow procedures on their own. Scheduling their own ASAC appointments protects students' privacy, as well. Most importantly, experience tells us that students who are not motivated to come to the ASAC on their own, generally do not benefit from services offered.
Can you assist a student with accommodations for graduate and professional exams such as the PRAXIS, GRE, or LSAT?
Students planning to take graduate entrance exams, certification exams, or professional licensing exams should familiarize themselves with the documentation requirements for that exam and then meet with their ASAC counselor to determine if their documentation meets the guidelines and if we must provide supporting documents. Please note that each testing agency and licensing board has its own standards which may differ from college entrance exams.