Writing Lab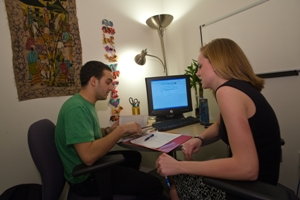 The Writing Lab is now closed and will reopen on September 8 for the fall semester.

We are in the process of finalizing the schedule, so check our website, and/or the scheduler (see below), for updates.
NEW HOURS!!!! ADDITIONAL SPACE!!!
This fall, the Writing Lab will operate a new schedule. Besides the Lab in the ASAC, the WL will also operate in the Library. Check all the options on the online scheduler. Don't hesitate to contact us if you have any questions.

Access the Scheduler and make an appointment
To learn how to use the Scheduler and about our policies, please click here Guidelines and Policies
The Writing Lab, located in the Academic Support and Access Center in MGC 243, provides individual writing assistance as well as group workshops. In order to make an appointment you will need to access our online schedule and register.
How does the Writing Lab help students?
A Writing Lab counselor can assist with every stage of the writing process:
Brainstorming from your assignment
Writing thesis statements
Outlining an argument
Recognizing recurrent grammatical errors
Creating smooth transitions
Composing polished prose
Experienced counselors evaluate drafts, identify areas for improvement, and explain strategies for effective essay structure. While they do not offer proofreading or editing services, they do offer advice on time management and project management techniques and also provide encouragement to help students become better writers.
What do students say about the Writing Lab?
The counselor created an atmosphere that was comfortable, personable, and one of learning - for both of us. She wanted to understand me and my challenge, before undertaking the task, which was assuring. 
The counselor was encouraging and affirming in my work - without knowing that that was mostly what I needed from her. I will definitely be coming back to keep her busy! :)  
The counselor was very helpful. Instead of just telling what mistakes I made she showed them to me, making me find them myself. She was able to provide me with a clear understanding of how an essay is supposed to work. She was very warm and very approachable, I would love to do more writing with her.  
The counselor helped me understand my topic and create an amazing outline, thanks!   
She has been the best writing tutor I've ever had. She is personable, knowledgeable, and has taught me valuable writing skills and techniques. 
The counselor is very patient and provides valuable feedback. I am very grateful for her continued help this semester.  Yeah!

The counselor helped me to improve my writing skill so much! Thank her so much! ;)