LGBTQ Studies Symposium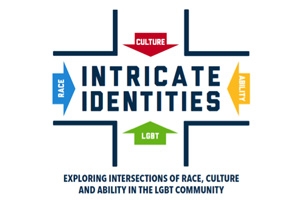 Jacob Wilson

Saturday, November 16th | American University

The 8th Annual DC Metro LGBTQ Symposium presents Intricate Identities: Exploring the Intersections of Race, Culture and Ability in the LGBTQ Community, which will be held Saturday, November 16th, 2013 at American University in Washington, DC. The symposium aims to create a communal space for education and reflection on leadership, activism, and research on lesbian, gay, bisexual, and trans* issues and topics for undergraduates, graduate students, faculty, and staff.
Keynote Speaker
The keynote speaker for this year's LGBTQ Symposium is Urooj Arshad, the Associate Director for International Youth Health & Rights at Advocates For Youth.

Registration
Registration for the Symposium is FREE and open to everyone. Please fill out our online form to register for the Symposium.

Schedule and Presentations
1:00pm      

Check-in/Registration (Mary Graydon Center Lobby/1st Floor)


1:30pm
Keynote: "Living & Loving at the Intersections" given by Urooj Arshad, the Associate Director for International Youth Health & Rights at Advocates for Youth

Emerging Activist Award Presentation

2:30pm
Concurrent Session 1

"The Invisible Non-Binary Individual"

 "Systems of Privilege: Racism and Sexism in the LGBT Community"

"Weight and Body Image Concerns Among Gay/Bisexual Identified Smokers"

3:40pm
Concurrent Session 2

"Equally separate? A conversation on Segregation in the LGBTQIA* Community"

"Child and White Sexuality in James Baldwin's Early Work"

"Equal Access, Equal Care: Creating a Trans* Inclusive Healthcare Culture"

4:50pm
Concurrent Session 3

"Gendered Instruction & Gender Deconstruction: Trans* Students at Religiously Affiliated Institutions"

"Mis-Appropriation of Black Womanhood In Cis Gay White Male Performance"

"The Heteronormative Prescription: Gay and Lesbian Portrayal in US Media"

6:00pm
Networking Reception

Sponsoring Universities
American University | Howard University | Gallaudet University | George Mason University | Georgetown University | The George Washington University | The University of Maryland College Park
Richard L. Schlegel National Legion of Honor Award

Additionally, American University's Center for Diversity & Inclusion will be awarding the Richard L. Schlegel National Legion of Honor award for an organization or person's work advancing the equality of LGBTQ people through advocacy, collaboration and empowerment.