DC LGBTQA Symposium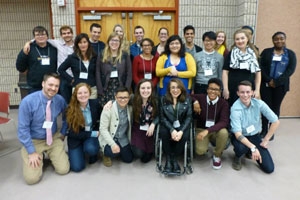 2015 AU Group at the 2014 LGBTQ Symposium

Fall 2015

The 10th Annual DC LGBTQA Symposium will be held during the 2015 Fall Semester. Please check back later for dates and more information! The symposium aims to create a communal space for education and reflection on leadership, activism, and research on lesbian, gay, bisexual, and trans* issues and topics for undergraduates, graduate students, faculty, and staff.
Registration

Check back closer to Fall 2015 for more information about registration.
2014 LGBTQA Symposium Schedule of the Day
Below was the schedule for the 2014 DC LGBTQA Symposium held at George Mason University. Please check back closer to the Fall 2015 semester for more updated information about the 2015 symposium.

Check-in / Registration
HUB Ballroom Lobby


 

1pm
Opening/Award Presentation/Keynote
HUB Ballroom


 

1:30pm - 2:25pm

Concurrent Session 1
Rooms 1 -5
** (En)Gendered Differences:Othering of the Feminine in Comic Books
** Deaf People, Identity Development, and Coming Out
** Coming Out: On Disclosure of LGBTQ+ Status and Chronic Illness
** Intricacies of Oppression: "Clear the Room" as an Intersectionality Exercise
** Inner City Issues in the LGBTQIA Classroom


 

2:30pm - 3:30pm

Concurrent Session 2
Rooms 1 - 3 & 5
** What are Children Really Learning from Disney?
** Social Work, Gender Dysphoria, and the DSM-5
** Deaf Atheist and Hearing Mormon: Love as Manifestation of Intersectionality
** Straight-Acting and the Denial of Gay Masculinities


 

3:40pm - 4:40pm

Concurrent Session 3
Rooms 1 - 3 & 5
** Speaking Butch: Epistemic Injustice and Identity Development
** Deaf-Queer: Experiences in Intersecting Identities
** Undocuqueer: Multidimensional Struggles and Reclaiming Self
** "Not Your Average Sex Talk": Creating Inclusive College Sexual Education


 

 
Closing Reception
HUB Ballroom


 

6pm
Sponsoring Universities
American University | Bowie State University | Gallaudet University | George Mason University | Georgetown University | The George Washington University | The University of Maryland College Park
Richard L. Schlegel National Legion of Honor Award

Additionally, American University's Center for Diversity & Inclusion will be awarding the Richard L. Schlegel National Legion of Honor award for an organization or person's work advancing the equality of LGBTQ people through advocacy, collaboration and empowerment.