Register for the Asian Pacific Islander Issues Dialogue! A space for the Asian Pacific Islander community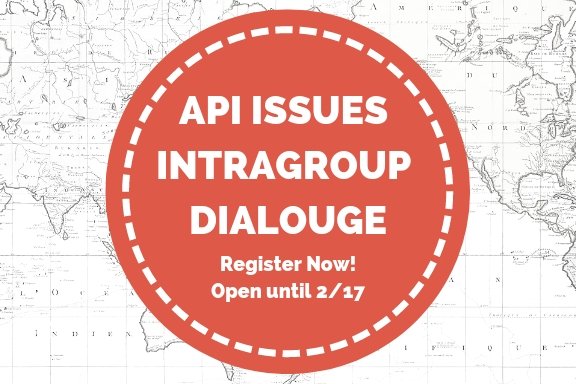 Asian Pacific Islander (API) Issues is a seven-week dialogue starting soon!(Tuesdays 2/19-4/12, 6:30-8:30 p.m.)*
What are your experiences within Asian Pacific Islander (API) communities on and off campus? How do issues of class, race, color, gender, sexuality, nationality, and ethnicity affect API experiences, behavior, and thinking? This intragroup dialogue is for people who self-identify within the API community to discuss API issues and experiences.
Dialogue registration closes 11:59 PM 2/17. You will receive an email with further information and meeting location on Monday, 2/18. The first meeting is Tuesday, 2/19 from 6:30-8:30 PM. 
*No meeting Spring Break
What is Intergroup Dialogue?
Intergroup Dialogue is a seven-week program that provides a unique learning opportunity for AU students to engage on a range of identity topics including but not limited to: race, ethnicity, gender, class, sexuality, and faith. Housed in the Center for Diversity and Inclusion, these dialogues gather people from multiple backgrounds and identities for sustained, ongoing dialogue for two hours each week.
"There's a Dialogue for You!"
3:19
Learn more about the Center for Diversity and Inclusion's Intergroup Dialogue in this video. 
Goals of Intergroup Dialogue
Engage across difference of perspective and identity
Foster intergroup community through a diversity of identities
Explore personal experience and societal issues
Facilitate
Gain skills facilitating identity-based conversations. Intergroup Dialogue is a seven-week program where students meet for two hours each week to explore societal issues, engage across difference, and gain tools for navigating difference on and off campus. 
Spring 2019 facilitator applications are currently closed. 
For questions, please contact Michelle Strange at dialogue@american.edu.
Faculty Involvement
Faculty can support Intergroup Dialogue by:
Promoting participant and facilitator applications to your students.
Offering course credit for your students' participation in Intergroup Dialogue.
Serving as an Intergroup Dialogue faculty advisor. Advisors meet with facilitators weekly (electronically and/or in-person) during the seven-week program to help them process and plan their sessions.
Email dialogue@american.edu to be added to the Intergroup Dialogue faculty supporter list to receive information about any of the above.