The CDI Diversity Peer Educators are a group of current American University students who facilitate conversations across campus with the goal of creating a more civil and inclusive environment.
You can request the Diversity Peer Educators to come to your student group, classroom, or residence hall by completing our Training Request Form. The below sessions can be tweaked to your organizations need or we can work together to create something specifically for your group:
Mapping Your Identity
Visualizing Your Privilege
Creating Inclusive Communities
In addition to the above sessions, CDI's Diversity Peer Educators also help to create timely programs and discussions throughout the year.
We currently are not accepting applications to be a Diversity Peer Educator.

Diversity Peer Educator's need to be available for training, meetings throughout the semester, and commit to facilitate 3 sessions a semester.

If you have any additional questions or concerns, please contact:
Camille Clark, CDI's Coordinator of Multicultural & First-Generation College Outreach at: cclarck@american.edu
or Matt Bruno, CDI's Assistant Director of Education & Training at: mbruno@american.edu
Looking for an LGBTQ leadership opportunity?
Want to help educate the AU community on LGBTQ identities?
The LGBTQ Peer Educators are a group of current American University students who support LGBTQ educational programs on campus.
LGBTQ Peer Educators support LGBTQ educational programs on campus, including:
Rainbow Speakers Bureau- (RSB) is a chance to give a peer to peer perspective on real LGBTQ experiences. These panels are made up of LGBTQ Peer Educators and can be scheduled at anytime during the semester and catered specifically to the needs of your class, student organization, or group. 
Queer Talk - Queer Talk is CDI's LGBTQ Peer Advising and Conversations Program. Either through one-on-one communication or group conversations, Queer Talk allows students to talk with other students about LGBTQ identities, issues, or questions. Peer advising and the group conversations are facilitated by the CDI LGBTQ Peer Educators.
Coming Out Monologues- An annual community event to celebrate National Coming Out Day, featuring monologues written and performed by American University students.
In addition to leading the programs above, the LGBTQ Peer Educators work to continually advise and enhance all of the Center for Diversity and Inclusion's LGBTQ programs and events. Selected students will receive training in leadership and social justice, with opportunities for personal and professional growth throughout the year.
We are currently not accepting applications to become a LGBTQ Peer Educator.

The time commitment is a minimum of one weekend training, 2 additional meetings, and sitting on 1-3 panels per semester.
If you have any additional questions or concerns, please contact:
Kameron Winters, CDI's Coordinator of LGBTQ & Diversity Programs at: kwinters@american.edu
or Matt Bruno, CDI's Assistant Director of Education & Training at: mbruno@american.edu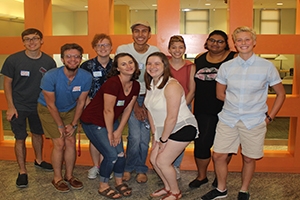 Our Fall 2017 LGBTQ Peer Educator Team