The Schlegal Student Travel Grant
The Center for Diversity & Inclusion recognizes the considerable benefit that students can gain from attending and presenting at national conferences. This travel grant is intended to provide opportunities for students to become familiar with and take part in the life of their academic professions by attending the National LGBTQ Task Force Annual Creating Change Conference from Thursday, January 25th - Sunday, January 28nd, 2018.
Applications for the 2017 Schlegel Student Travel Grant are due no later than Friday, December 1, 2017. Application guidelines are below.
The Center will provide travel grants to:
A limited number of American University students (must be a student during the spring semester)
Students who are in good academic & judicial standing with the university
Priority will be given to those presenting at the conference on an LGBTQA related topic and/or assisting Center for Diversity & Inclusion Staff workshop sessions
The grants can be used for air travel to the conference; base hotel charge (student will be responsible for meals and any extra charges on the hotel bill); and conference registration fee. Funding will include conference registration and partial costs of hotel/travel. Grant recipients are encouraged to seek additional funding from their academic department or from other funding sources. Once back from the conference, grant recipients must work together to do a public presentation/event for the AU community, which could include submitting a proposal to the DC LGBTQ Student Conference that takes place each November.
2017 Travel Grant Application Process
Applications for the 2018 Schlegel Student Travel Grant to Creating Change are due no later than Friday, December 1, 2017.
Applicants need to fill out an online application . In addition to the online application, applicants can also submit a letter of recommendation (1 maximum), a video application, and/or a resume.
For questions concerning the travel grant, please contact the Center for Diversity & Inclusion at cdi@american.edu or 202-885-3651.
More Information
The Schlegel Student Travel Grant is funded through the Richard L. Schlegel National Legion of Honor Endowment. This travel grant embodies the spirit of the Richard L. Schlegel National Legion of Honor Award as Creating Change gives participants the opportunities to build & hone skills, meet leaders & build community, and gain an understanding of current issues in the LGBTQ movement. As the Richard L. Schlegel National Legion of Honor Award recognizes individuals who have exhibited leadership and contributed to the dignity and freedom of LGBTQ people, funding students to attend this conference helps build the future leaders of this movement.
 Schlegal Travel Grant 2017 Poster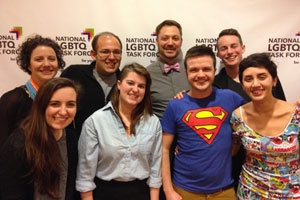 CDI's 2015 Schlegal Travel Grant Recipients