What is a STEP Assistant?
STEP Assistants aid with the implementation of the Summer Transition Enrichment Program, an seven-week academic and skill-building institute for a select group of incoming first-year students. STEP Assistants serve as leaders, role models, and a support system for the student participants who reside on AU's campus during the summer.
What are we looking for in a STEP Assistant?
A proven record of academic excellence and time management skills
Leadership, initiative, and experience programming
Strong understanding of professionalism and customer service
Demonstrated ability to connect with diverse student populations
Willingness and passion for motivating others to act and helping them to positively adapt to new situations
Previous STEP experience is NOT REQUIRED!
Responsibilities:
Advise STEP students on their transition to college life and being at AU.
Coordinate select programs, such as community service / community-based learning projects, community building activities, etc…
Promote a unified sense of community among the STEP students by creating and implementing cultural, educational, and social activities both within the residence hall and in Washington, DC.
Provide assistance to the Center for Diversity & Inclusion in all aspects of STEP, including, but not limited to roommate mediation, event logistics, and program assessment.
Role-model by encouraging a healthy, responsible and well-balanced life-style.
Applicant Qualifications:
Enrollment in a degree program at American University
Minimum cumulative GPA of 3.0  
Availability for the 12-week employment period during June-August 2020. This job has non-traditional hours with the job responsibilities occurring during business hours as well as some evenings. Applicants must be available for the full 12-week time period.
No prior STEP experience required.
Compensation & Benefits:
STEP Assistants receive $15 per hour and work 35 – 40 hours per week. These hours may include evening and weekend work. All payments are taxable by the federal government. If you are receiving financial aid, please discuss how your aid may be affected with a financial aid counselor prior to applying for and accepting the position.
STEP Assistants receive a double-occupancy room on the same residential hall floor as STEP participants. The room is part of the compensation package and paid for only during the 12-week employment period. STEP Assistants live alone but must adhere to the University guest policy and may not host long-term guests in their room. In addition to lodging, the STEP assistant rooms serves as "office space" for the STEP assistants' one-on-one advising meetings with students.
Application Timeline:
Applications for Summer 2020 available now!
Applications are due on Monday, February 17, 2020 by 11:59 PM. Final selections will be made and applicants will be notified on Friday March 6, 2020. 
Be sure to check this page for updates and follow CDI on Facebook to find out more.
By submitting an application for this position, you agree to fully understanding and accepting the following expectations:
You will attend and fully participate in all training programs.
You will avoid additional commitments which conflict with work duties.
You will reside in your assigned room on the STEP residence hall floor. No exceptions.
You will work productively, individually, and collaboratively with fellow team members.
You will value diversity and demonstrate a strong understanding of STEP, its purpose, and your role in the program.
You will be flexible and positively adapt to new situations and people.
You will maintain the confidentiality of program participants.
Questions, comments or concerns?
Contact the Center for Diversity & Inclusion at 202-885-3651, cdi@american.edu, or visit us in the Mary Graydon Center Rooms 201/202.
 
2019
Maria Gramajo, College of Arts and Sciences
Jaqueline Martinez, College of Arts and Sciences
2018
Christina Gee, School of Public Affairs
Joshua Dantzler, School of Public Affairs
Cynthia Turcios, School of Public Affairs
2017
Angela Brown, College of Arts and Sciences
Maureen Smith, School of Public Affairs
Marifernand (Marifer) Zacarias, School of International Service
2016
Sabrina Hernandez, School of Public Affairs
Ariana Alves, Kogod School of Business
2015
Adrian Simion, Kogod School of Business
Aminata Jamina, College of Arts and Sciences
Olimar Rivera Noa, School of International Service
2014
Jazmin Bess, College of Arts and Sciences
Tatiana Liang, School of Public Affairs
2013
Herman Marigny, Kogod School of Business
Salina Rivera, College of Arts and Sciences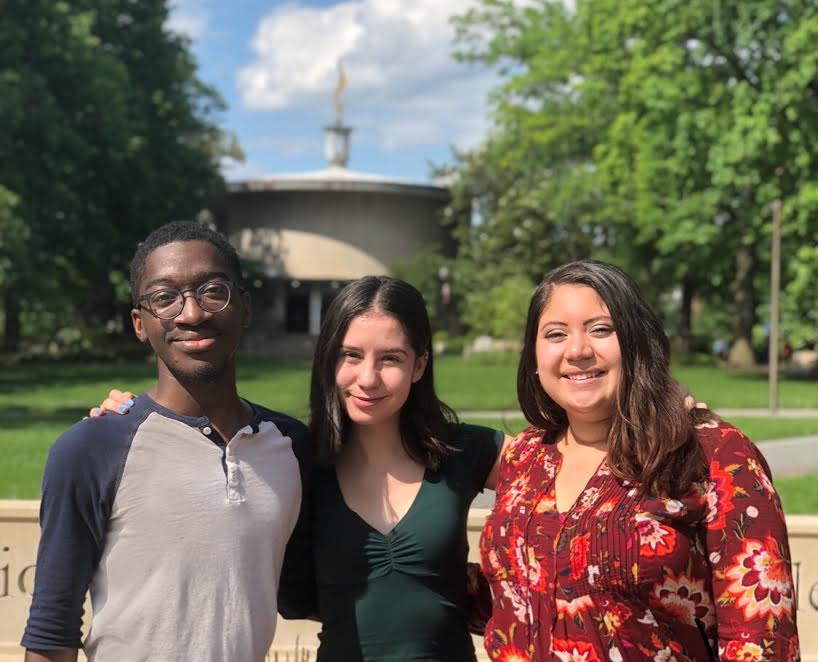 Joshua Dantzler, Cristina Gee, and Cynthia Turcios served as the 2018 Step Assistants.
Angela Brown, Marifernand Zacarias, and Maureen Smith served as STEP Assistants for the STEP 2017 year.