University Conference & Guest Services
4400 Massachusetts Avenue NW
Washington
,
DC
20016
United States
Why Host your next Conference or Event at AU?
College campus in the middle of the nation's capital
Competitively priced living in a beautiful residential area
Air conditioned, renovated residence halls
Pre-consultation of services and campus tours
High quality dining and catering services
Meeting space and Audio Visual Support for group of 5 - 1000
Convenient pay parking in designated lots on campus, free shuttle services, Metro accessible
Complimentary fitness center access
Complimentary wireless internet in the residence halls and through campus
One card access for residence halls, dining hall meals, and EagleBucks program
Conference Housing Accommodations
American University offers traditional residence halls, suite-style residence halls and apartment-style living. Our residence halls are among the best equipped in the metropolitan area. All rooms are air-conditioned with in-room temperature controls. Additionally, our entire campus - including the residence halls - has wireless internet connectivity for your convenience. All guests arrive to find their bed ready with linens, a blanket, pillow, pillowcase, and towel.
Traditional Style Residence Halls
Most conference guests stay in our traditional residence halls spaces. All floors are equipped with laundry, kitchen, lounge facilities, and separate communal men's and women's bathroom and shower facilities.
Residence halls range in size and configuration with most of the halls having rooms that are 12' x 15' double rooms for shared occupancy and bathroom facilities located on the same floor (with individual shower and toilet stalls).
Common bathroom facilities are located on each wing of each residence hall floor and are designated by gender. Each bathroom has several shower stalls, toilet stalls and sinks.
Most rooms are doubles (accommodating two guests). Single and triple rooms are available, but in limited numbers.
Traditional Hall Room Photos and Layouts

Suite Style Residences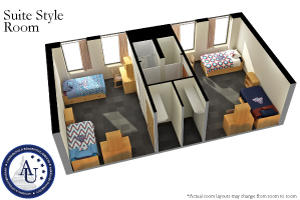 Centennial Hall provides semi-private suite living. In Centennial Hall, two double rooms share one bathroom. These bathroom facilities are not accessible from the hallway, making them available only to the guests of the rooms on either side.
Additional photos of Centennial Hall

Apartment Style Residences
Nebraska Hall is the only residence hall with apartment style living. These fully furnished apartments are available in either 2, 3, or 4 single bedroom accommodations. In addition, each apartment has its own fully equipped kitchen, living room area, and bathroom. There is an eight-week minimum stay for the Nebraska Hall residences. This residence hall is typically utilized by summer intern guests who stay for eight to 12 weeks.