Mon and Thurs: 9am-6pm Tues, Wed, and Fri: 9am-5pm
Summer hours: M-F 9am-5pm
Closed Saturday and Sunday
Contact:
Callandrillo, Traci Edwardson
Assistant Vice President Campus Life
Counseling Center
4400 Massachusetts Avenue NW
Washington
,
DC
20016-8150
United States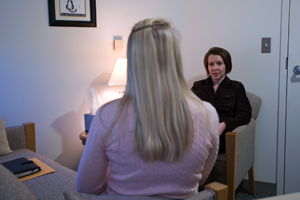 All of our services are free and confidential, protected by law and ethical standards. Whatever your concerns, a confidential conversation with a Counseling Center clinician is a good place to start. A clinician can help you sort out your situation, your feelings, your options, and resources that might support you.

Students seek counseling for a wide variety of concerns, including but not limited to:
Relationship challenges
Intimacy and sex concerns
Culture and identity
Experiences of oppression and marginalization
Anxiety or panic
Life and career decisions
Depression, hopelessness, and suicidality
Self-harm behaviors
Eating and body image issues
Drug and alcohol use
Trauma reactions
Coping with disability and ability differences
and more...

Mental health resources are available to all students in the Resource section of this website. In addition, the Resource Library of handouts, binders, pamphlets and other materials is available in our reception area during the hours the Center is open.
Group Therapy:
Group counseling is offered every semester. A Counseling Center clinician can help you determine your eligibility for group counseling, and your alternatives if there is not a suitable on-campus group.
Individual Therapy:
Individual therapy is time-limited at AUCC. Time-limited counseling means meeting with a clinician for 6-8 sessions. Many students find that their concerns can be addressed in time-limited counseling, while others may need longer-term counseling services offered off-campus.
Referrals:
Off-campus referrals are often a great option for students. Referrals are often recommended to students who may require intensive, extensive, or specialized services, or to students who would like to meet with a clinician who is readily available. An AUCC clinician can help you get connected with an off-campus clinician who is maximally appropriate, accessible, and affordable for you.
If you are eligible for counseling on campus at a time when there are no on-campus hours available, you may choose to:
(a) wait until an on-campus hour that fits your schedule becomes available, or
(b) begin off-campus counseling immediately.

YOU NEVER HAVE TO WAIT FOR COUNSELING -- referrals to off-campus care are always available.