Dean of Students
4400 Massachusetts Avenue NW
Washington
,
DC
20016-8148
United States
How We Help Faculty & Staff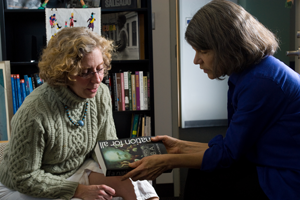 The Office of the Dean of Students works with faculty and staff to promote and support the academic mission of the university. Faculty and staff are encouraged to use the office as a resource for their questions and concerns, particularly as they relate to students' well-being and academic performance. The Dean's Office supports faculty and staff through:
Consultation
The Dean of Students Office welcomes your questions and concerns about individual students, campus life issues, and programs and services on campus that support student success. Not sure how to handle a concern about a student? We can help.
Care Network (Helping Students in Distress)
Faculty and staff frequently observe signs of students in distress. Uncharacteristically disruptive behavior in the classroom or disturbing written communications can be a first sign of trouble. You can play an important role by identifying students in distress and helping them to receive the assistance they need.

The Office of the Dean of Students provides an easy to use reporting tool to share concerns about student behaviors. If you recognize signs of distress or observe disruptive behavior in your classroom, submit an online report through the Care Network. The dean's staff will reach out to the student to offer support and connect him or her with appropriate resources on campus or in the community. The Care Network is accessible to faculty and staff through the Life@AU tab on the myAU.american.edu portal.
Medical Documentation
Academic Regulations require students to submit medical documentation only to the Dean of Students office in the event of a Medical Temporary Leave. In addition, the Dean's Office reviews and verifies medical documentation for extended class absences and confirms its receipt with faculty. Want to verify a student's class absence? Contact us.
Title IX Guidance
Federal law requires the university to educate the campus community around issues of sex discrimination including sexual harassment and sexual assault, to investigate reports of alleged discrimination, and to prevent its recurrence. Please address all questions and concerns about its enforcement to TitleIX@american.edu
Confidentiality and Mandatory Reporting
While many faculty and staff do their best to keep personal student information private, only licensed mental health professionals in the Counseling Center, licensed medical professionals in the Student Health Center, ordained clergy in the Kay Spiritual Life Center, and the sexual assault prevention coordinator in the Wellness Center can offer legally protected confidentiality.

It is often confusing for faculty and staff to know when they must report an incident to a university official. The university's Discrimination and Sexual Harassment Policy requires all faculty and staff to report allegations of discriminatory behavior to designated university officials. In addition, the Clery Act requires reporting of criminal acts that occur on university property. Not sure whether you need to report an incident or to whom you should report it? We can help.

Contact the Dean of Students Office for more information on how we can help by emailing or calling us at (202) 885-3300.