About the Program Associate Position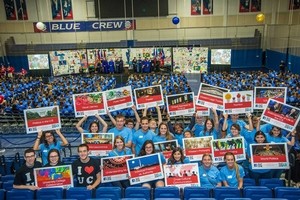 The Program Associate (PA) is an undergraduate part-time student staff member of Housing & Dining Programs and a member of the University's Office of Campus Life. Housing & Dining Programs believes that life in the residence halls provides students an important opportunity to complement their classroom learning experience. The PA fulfills a vital role in the residence hall system by helping students integrate learning experiences gained from both inside and outside of the classroom. The primary function of the PA is to design weekly labs to enhance the out-of-classroom learning for students in either the University College or the Three-Year Scholars Program. Additionally, the PA is responsible for facilitating interpersonal relationships and to create living situations that maximize the opportunities for students to learn and grow.

The PA is a full-time undergraduate student. The PA must be enrolled in a degree-granting program each semester. PAs must have achieved 30 credits (or be in sophomore class standing) and carry a minimum of 12 credits and a maximum of 17 per semester. Academic credits will be checked on a semester basis at the conclusion of the drop/add period. The PA must be in good judicial standing.  

PAs must maintain a cumulative GPA of 3.0 and a semester GPA of 2.75 while employed. GPAs must be maintained from the date of application until the date of separation. PAs falling below the minimum GPA requirements may be subject to termination or probation. Grade Point Averages will be verified at the conclusion of each semester.
 
Apply to Become a Program Associate
Listed below is a checklist of items you must complete for your application to the PA position to be considered complete:

Applicants to the PA position will be invited to participate in a group interview and an individual interview. Both interviews are a mandatory component of the PA selection process. Multiple dates are provided for group and individual interviews. Candidates will be provided an opportunity to indicate their interview date preference when completing the PA application. 
Group and Individual interviews are scheduled for Saturday, February 14th and Sunday, February 15th between 9:00am and 5:00pm. 
You must interview on one of the scheduled dates to be considered for the position.