Main Office (Anderson Hall): Mon-Fri: 9 AM-5 PM; Sat-Sun: Closed;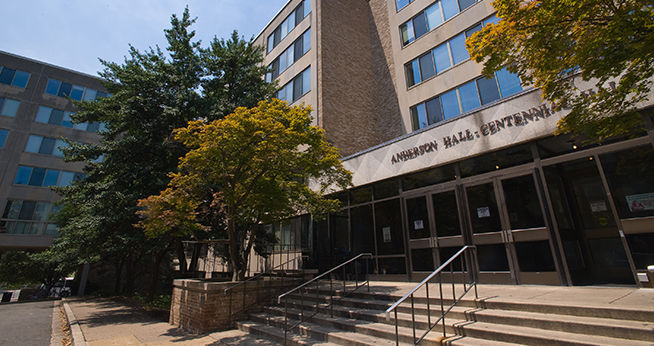 Hurst Robins Anderson was president of American University from 1952 until 1968, during which he oversaw one of the institution's most important periods of growth and development. He was previously a faculty member of Allegheny College and president of Hamline University in Saint Paul, Minnesota. In 1966, construction began on Anderson Hall. At the time, it was designed to be the largest residence hall on campus to make way for a larger student body. Anderson Hall was completed in 1972.
Anderson Hall is home to the largest first-year population on campus with over 770 residents. Anderson houses the University College, Leadership Academy, and Honors (Honors program, Community Based Research Scholars, and Fredrick Douglas Distinguish Scholars) Living Learning Communities. The building has a traditional residence hall design with corridor-style rooms and shared hall bathrooms broken down by north and south corridors. Each floor community has a central lounge space containing a kitchen, lounge furniture, and a TV where students are often found studying and relaxing with friends. Each floor also has a study lounge for residents to utilize as a quiet study location or a common meeting space for group projects.
Anderson also has two large common spaces as well as two classrooms to meet the needs of our residents and the university community. Anderson Hall also hosts the largest front desk area, as well as the main offices of Housing & Residence Life and the Center for the First Year Experience. Anderson Hall is also home to the Greek chapter rooms on campus. At least two of Anderson's 20 Resident Assistants (RAs) live on each floor. The RAs serve as peer educators on the floor, helping residents transition to the university and get connected to the community through a variety of initiatives.
Along with our student staff members, Anderson Hall is also home to three Community Directors (CDs) who supervise Anderson and Centennial Halls. These professional staff members work closely with the Resident Assistants and Program Associates to create the best living-learning environment possible for our residents. Anderson is lucky to also serve as home to our Faculty in Residence.
Building photo courtesy of Jeff Watts.