Main Office (Anderson Hall): Mon-Fri: 9 AM-5 PM; Sat-Sun: Closed;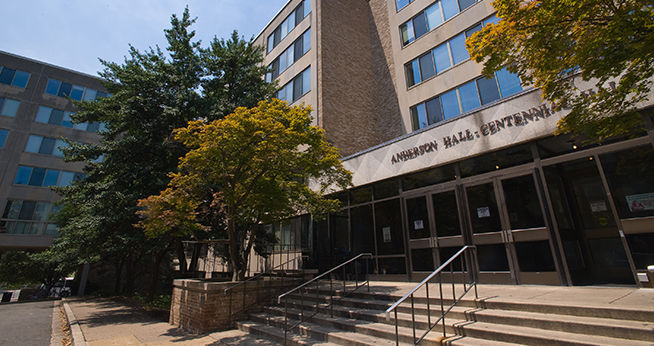 Centennial Hall is home to approximately 400 first-year students. The building is designed for suite-style living, where two students living in one room share a private bathroom with two students in an adjoining room.
About The Hall
Each floor community has a central lounge space with a kitchen, lounge furniture, and television for students to study or socialize with their community. Each floor also has a study lounge used as a quiet study location or a common meeting space for group projects, as well as a laundry room. The building is connected to Anderson Hall, also a first-year hall.
Virtual Tours
Our virtual tours are representative of a given room type. Each space varies based on room sizes and dimensions. Each virtual tour includes some decorative items and a MicroFridge to show what the room looks like when occupied, but these items are not included in rooms.  
Click below to view virtual tours of Centennial Hall:
Personalize Your Room
Decorative and additional items (bedding, MicroFridge) can be purchased from the HRL coordinated vendors through our Personalize Your Room webpage.  Each room will include the furniture noted on this webpage.
In-Hall Staff
In-hall staff include resident assistants (RAs) and community directors (CDs). The 12 Centennial RAs live throughout the building, acting as peer educators and helping residents transition to university life and connect to their community. The Anderson-Centennial community has three CDs, professional staff members who work with RAs to foster a living-learning environment to bridge the academic and residential experience.
Approximate Dimensions
Room sizes and dimensions provided are approximate. Layouts or room configurations may vary due to the uniqueness of all residence hall accommodations.
Centennial Hall

| Description | Approximate Dimensions |
| --- | --- |
| Room | 16'2" x 12' |
| Built-in shelves | N/A |
| Bookcase | 1'10" (W) x 10.5" (D) x 2'6" (H) |
| Desk | 4' (W) x 2' (D) x 2'6.5 (H) |
| Wardrobe or built-in closet | 2'3.25" (W) x 2'3" (D) x 6'7" (H) |
| Built-in bed drawers | 2'3.5" (W) x 1'7" (D) x 5.25" (H) |
| Bed frame | 3'11" (W) x 2'4" (H) x 6'7" (L) |
| Mattress | Standard twin |
Images
Get involved in your Residence Hall Association or Hall Council.

Check out the history plaque in the front lobby!