Main Office (Anderson Hall): Mon-Fri: 9 AM-5 PM; Sat-Sun: Closed;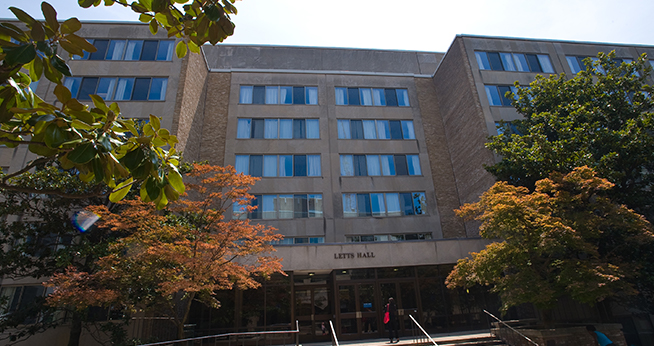 Letts Hall was completed in September of 1963 and named for John Cowen Letts, an active Methodist layman and generous supporter of both the Church and American University. He served as President of the University as well as a member of the Board of Trustees.
Letts Hall is home to an entirely first year student population. It has a traditional residence hall design with corridor-style rooms and shared hall bathrooms. It has a tradition and history of being a very involved and engaged community with a strong sense of spirit! The building offers many different types of community spaces, including the Letts Formal Lounge and the Sky Lounge. Letts Formal Lounge is used for large events and classes, and the Sky Lounge is a multi-purpose entertainment and program space known for its views of the city.
The building is separated in the lobby into a North and South section with a Social Lounge and a Study Area on each wing of the floor. One floor of Letts Hall is designated as an all-female floor. Additionally, Letts Hall is the home of the AU Scholars, University College, 3-Year Scholars Living Learning Communities. Living Learning Communities are created in collaboration with Residential Education and The University Provosts Office.
In addition to Resident Assistants, Letts Hall is managed by two Community Directors who supervise the Letts, Clark, and Roper communities. The Letts-Anderson Quad is central meeting spot for South Campus residents with seating areas and large trees.
Get involved: Interested in making a difference for the community you belong to? Like programming and event planning? Are you an activist at heart and want to get involved in being an advocate for people you serve? Then joining the Letts, Clark and Roper (LeCloper) Hall Council may be for you! Email lettsclarkandroper@gmail.com for more information.