Main Office (Anderson Hall): Mon-Fri: 9 AM-5 PM; Sat-Sun: Closed;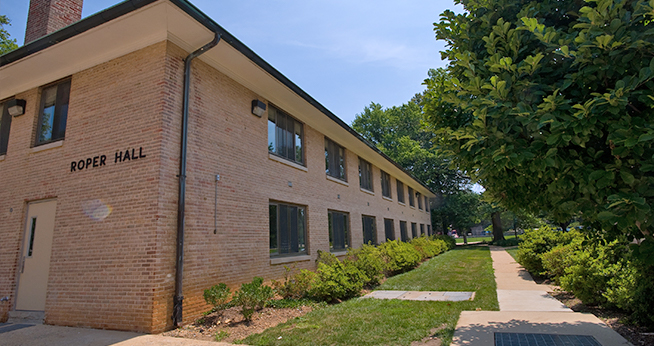 Roper Hall is a small, tightly knit first-year building housing approximately 50 residents. The building has a traditional residence hall design with corridor-style rooms and shared floor bathrooms. The building has a central lounge space with a kitchen, lounge furniture, and television for students to study or socialize with their community. The lounge space is often used as a quiet study location or common meeting space for group projects. The building also has a laundry room. Roper Hall residents have access to spaces in nearby Letts Hall, including the Sky Lounge, a multi-purpose entertainment and programming space. An open garden area with greenery and benches stands behind Roper Hall.
In-hall staff include Resident Assistants (RAs) and Community Directors (CDs). Roper's two RAs act as peer educators and helping residents transition to university life and connect to their community. The Letts and Roper community has two CDs, professional staff members who work with RAs to foster a living-learning environment to bridge the academic and residential experience.
Interested in getting involved in event planning and making a difference in your community? Get in touch with the Letts and Roper Hall Council by emailing lettsclarkandroper@gmail.com.
Approximate Dimensions
Room sizes and dimensions provided are approximate. Layouts or room configurations may vary due to the uniqueness of all residence hall accommodations.
Roper Hall

| Description | Approximate Dimensions |
| --- | --- |
| Room | 14'10" x 12'4" |
| Built-in shelves | N/A |
| Bookcase | N/A |
| Desk | 2'11.5" (W) x 1'11.5" (D) x 4'6" (H) |
| Wardrobe or built-in closet | 1'10.5" (W) x 1'11" (D) x 6' (H) |
| Dresser or built-in drawers | 2'5.5" (W) x 1'11.5" (D) x 1'8" (H) |
| Bed frame | 3'2.5" (W) x 3' (H) x 7'.5" (L) |
| Mattress | Standard twin |
Images
Get involved in your Residence Hall Association or Hall Council.

Check out the history plaque in the front lobby!