Main Office (Anderson Hall): Mon-Fri: 9 AM-5 PM; Sat-Sun: Closed;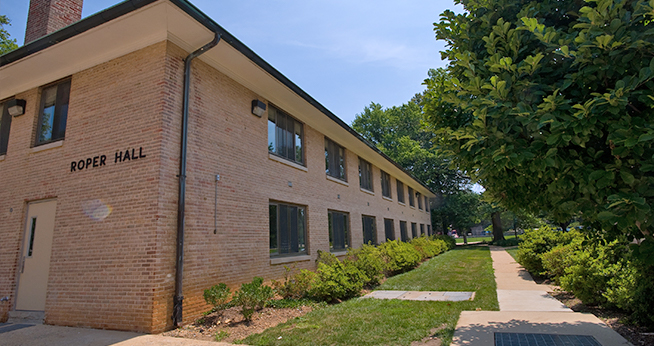 Before the Roper Hall as we know it existed, the first Roper Hall was located on Ward Circle. Home to a women's naval reserve commonly known as WAVES, the building was razed in 1951. After the new structure was completed, it opened in 1954 as a men's residence hall.
Roper Hall is home to the Social Justice Living Learning Community, a gender neutral housing option here at American University. Students within this community participate in collaborative experiences around the topics of Social Justice and interact with many campus offices and staff throughout the year. These offices include The Center for Diversity & Inclusion, The Center for Community Engagement & Service, Kay Spiritual Life Center, and more.
As a member of the Letts, Clark, and Roper housing cluster, commonly referred to as "LeCloper", Roper Hall has a tradition and history of being a very involved and engaged community with a strong sense of spirit!
Residents of Roper Hall have access to many different types of community spaces, within the larger Letts Hall, including the Letts Formal Lounge which is used for large events and classes, as well as the Sky Lounge, a multi-purpose entertainment and program space that has some of the most beautiful views of the city.
The building is home of two Resident Assistants, a Lounge, shared kitchen and laundry facilities. Roper Hall shares a complex and garden area with Clark Hall.
Get involved: Interested in making a difference for the community you belong to? Like programming and event planning? Are you an activist at heart and want to get involved in being an advocate for people you serve? Then joining the Letts, Clark and Roper (LeCloper) Hall Council may be for you!
Email lettsclarkandroper@gmail.com for more information.