Salma
from Saudi Arabia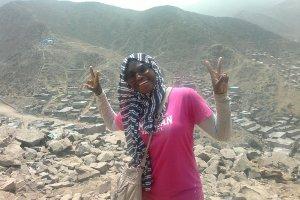 Languages: English and Arabic
Major: Biology (CAS)

---
What have you learned about yourself since coming to AU?
Since coming to AU, I've learned a lot more about myself that I didn't know I have in me. First of all in regards to the dorms, I've learned that I'm actually capable of surviving a full semester in a small room with two other roommates. I've also learned that I'm more passionate about learning different subjects that didn't appeal to me in the past, as a variety of courses are available. Most importantly I've learned the great benefits of being independent and not having to completely rely on people. All in all, after being here for just a semester and a half, I feel that I have grown up so much - not only mentally, but also socially and emotionally.

What are some words of advice you would give to a friend back home who was planning to study in the US?
Don't be afraid. Coming to study in a country that is far away from yours might be hard at first but you'll eventually learn how to deal with it. You might find it hard to adapt to the new life style and education system but as time goes by you'll adapt to it without realizing. The lifestyle is different from that back home, so when you first come I advise that you be open minded and interact with people of different backgrounds. As for the educational system, I would recommend that you'd be willing to work hard and stay up many nights in order to complete your work. 
One the other hand as to packing and what to bring, I recommend that you don't bring a lot of things with you as you'll probably be going back home during the winter break. Most of all I would advise that you enjoy yourself and have fun. Coming to study in the US is a wonderful experience, even though it might not seem like it at the beginning, just give it time and it will get better.