Steph
from United States of America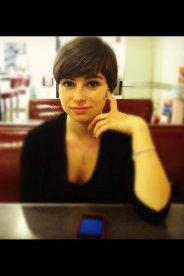 Languages: English, Spanish, French, German
Major: Foreign Policy with International Business and Marketing

---
Tell us about an unexpected discovery that you made when you came to AU. 
Growing up in Europe, everything is fresh and organic. I think my most unexpected discovery is how delicious all the junk food is and its dangerous. I am an enormous foodie, and DC has way too many delicious restaurants. (Seriously, let's go out for dinner, no matter what you're up for I'm sure it's around somewhere.) But the junk food....oreos and girl scout cookies and cup noodles and lucky charms....The USA has so much to offer for students. Snack away!

But also, I was surprised at how quickly I grew used to the US rhythm of life. I had a huge cultural shock, but the faster you embrace silly things like the non-24 hour time and the fact that they put the month first when writing out the date, the happier you'll be. At least, that's what I've found. I was expecting for me to stick out like a sore thumb, but the community on campus is so friendly and accommodating that I began to feel at home in no time.
Tell us about the most meaningful club or activity that you are involved with. 
The AU Global Nomads group is a wonderful opportunity to be around others just like me who have a hard time answering the question, "where are you from?" It's a little bit different from all the other cultural and international groups on campus because it's united by being multicultural. I love to be busy, so I'm involved in basically everything there is to do on campus, but this group really understands me better than most. They are all very welcoming! We have lots of fun planning events, even just multicultural dinner night or our favorite, Asian horror movie night. I've made some great friends through being involved, and I'm so excited to meet all the incoming freshmen next year. I'm sure they will bring a great new perspective to the group!