Akua Kwafoa Gyekye, 2004 President's Award Recipient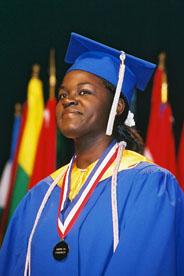 The President's Award is the highest award for undergraduate students and is presented each year to a graduating senior whose undergraduate accomplishments are truly exceptional and reflect the highest ideals of American University.  Awardees have demonstrated exceptional academic achievement, integrity, selflessness, leadership, and service to the Washington, D.C. community.  They have contributed significantly to building community and promoting the understanding and acceptance of cultural and racial diversity on the AU campus.
In 2004 Akua Kwafoa Gyekye, an international student won this prestigious award.  Ms. Gyekye earned her Bachelor's degree from the School of Public Affairs.