Office Hours: During the school year: Monday-Friday 9 AM to 9 PM Summer: Monday-Friday 9 AM to 5 PM
Kay Spiritual Life Center
4400 Massachusetts Avenue NW
Washington
,
DC
20016
United States
In addition to the many religious services that take place throughout the week, the Kay Spiritual Life Center is home to a number of different programs throughout the semester. Our events are designed to provoke thought, stir discussion, and to build understanding.
Here are some of our more popular events and programs:
Table Talks
Table talks are our lunchtime discussions on important issues, often exploring these issues from a moral or ethical point of view. We bring in noted speakers to discuss (and sometimes debate) the topic and then to take questions from the audience. A free lunch for students is always served (faculty and staff are requested to make a modest contribution) and everyone is welcome to attend.
We often make video of our table talks available online.
What Matters to Me and Why
A speaker series in which we bring in AU faculty and staff to answer the question: "What matters to me and why?" It's an opportunity for our students, faculty, and staff to learn what motivates our professors and staff memebrs to do what they do and to reflect on the life lessons of their experience. It's always a meaningful conversation.
Global Friendship Lunches
We endeavor to make AU a place of welcome and a home for all. In so doing, we offer free lunches for our international students to encounter one another and their US-born classmates. The lunches offer students to learn about one another and to build important relationships. Everyone is welcome to attend.
Poynter Lecture Series
The Poynter Lecture Series is an annual speaker series in which we bring in a lecturer who has exemplified a life of compassion or commitment to justice. We try to be mindful of the issues of the day as we consider our speaker, so that their life's work and mission might inform our own reflection on the world we encounter.
Special Programs and Events
Occasionally, we sponsor a major one-time program or event on campus.
Faculty and staff lead conversations in which they reflect on What Matters to them and why.
We gather respected teachers and experts in different fields from on campus and off.

We discuss different topics of social, moral, and ethical importance, often touching on the news of the day.
We offer a free lunch in order not only to feed the mind, but the body as well.




Everyone is welcome.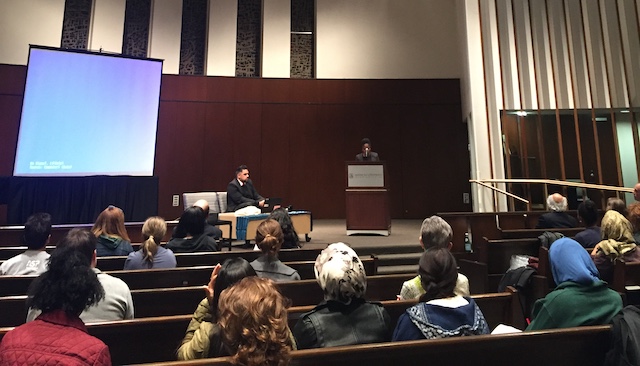 The Poynter Lecture series is an annual event bringing leaders to campus who exemplify the highest ideals of compassion and justice for a world in need.