Achievements
It's All About the Journey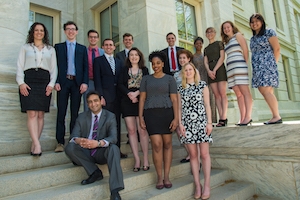 At American University the flowers are blooming, the weather is warming, finals are complete, and it's time for new beginnings and adventures. This week AU celebrates Commencement and honors outstanding graduating students who will leave AU a better place.
At the Awards Program and Reception on May 6, the University will honor 17 University Student Award recipients, including President's Award recipient Tatiana Laing.
Impactful Service
The Outstanding Service to the University Community awards will be presented to two student whose service will leave a lasting impact. Matt Waskiewicz served AU in several corners of the university and committed himself long term to several positions where he worked for positive change. In addition to serving students as a resident assistant and in Student Government, he served as president of the Student Honors Board and editor of Clocks and Clouds undergraduate research journal. "It's reassuring to know that everything I've done the last four years has had an impact and people have noticed," Waskiewicz said.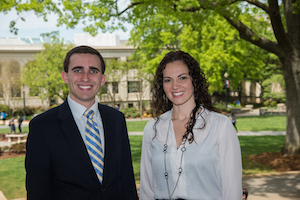 He continued, saying the honor should extend beyond him. "It's as if these organizations are also receiving recognition from the university, and it is gratifying to know that."
For the first time in four years, the Outstanding Service award will go to a Washington College of Law student, Amanda Molina. In a year of transition for WCL, with a move to the new Tenley Circle location and a search for a new dean, Molina served her peers well as Student Bar Association president.
"I appreciate the award because it means my peers saw that I devoted so much time and cared about the student body," Molina said.
Outstanding Academics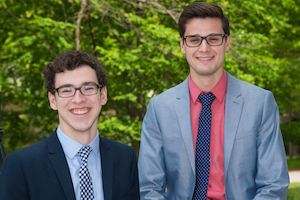 The university recognizes academic achievement with the Outstanding Scholarship Award at the undergraduate and graduate levels. For undergraduate literature and biology major Jake Nieb, the award was a big surprise. "It's an incredible honor. I could not believe it when I got nominated," Jake said. "It is really cool that the university fosters this environment that I can pursue literature and biology, two disparate fields." While Nieb excelled at his studies and tutored students in organic, he also got involved with student media and served as editor of AmLit.
For political science undergraduate student Brian Hamel, who is being awarded for his scholarship and co-authoring a paper with faculty on voter mobilization, the joy of this award and his time at AU was working with scholars in the field. "Working with faculty and co-authoring with them and presenting at conferences has meant a lot to me—and helped me figure out what I want to do."
Chelsea Horne and Tofigh Maboudi both earned the Outstanding Scholarship award for their work at the graduate level.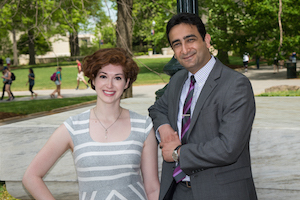 Horne is graduating with her MFA in Creative Writing. She is a published writer and poet and has extensive experience teaching around the world. She served on the staff for the Visiting Writer Series and Café Americain, as well as on the Graduate Leadership Council.
For Maboudi, winning the award was the icing on top of on an experience that changed him.
"My experience at AU was very transforming. I got to achieve a lot. I am writing a book with one of my professors called Constituents before Assembly. It will be published in a few months," Maboudi said.
He is a solid researcher with a book contract with Cambridge University Press. He also taught undergraduate courses in the Government Department at AU and just received a tenure line position starting in fall 2016 at Loyola University.
Exceptional Achievement
Along with academic and service honors, the university gives special recognition to 10 graduating undergraduate students who have been most actively involved in leadership, community-building, and intercultural exchange.
History major Toby McCarroll is the recipient of the Stafford H. Cassell award for his selflessness and tireless commitment to represent AU as a Division I student athlete on the swimming and diving team, a Student Athlete Advisory Committee Executive Cabinet member, and an international student who shared his experiences with prospective students. "I was very surprised and humbled to be honored for this prestigious award," McCarroll said.
Political science major Evie Unsworth earned the Kinsman-Hunt Award for her service through Student Government, Conduct Council, and AU's Board of Trustees. In her role as student trustee, she had a chance encounter with the President of the United States. "During my time in this position I had the honor of being invited to hear President Obama speak at AU about the impending Iran deal. This is a day I will never forget and it constantly reminds me of the amazing opportunities AU provides to students," Unsworth said.
For public communications major Dyáni Brown, bringing more awareness to Indigenous culture was pivotal in her earning the Harold Johnson Award. She strengthened the Student Advocates for Native Communities organization on campus, and her proudest achievement was establishing the now annual Thanksgiving Round Dance Social. "I am happy to have been part of that inaugural event, and it is something we can carry forward," Brown said.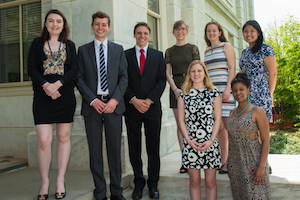 Nate Sundermeier, a communications studies major, earned the Charles W. Van Way Award for his efforts building community at AU. "I am grateful to the selection committee for deeming my unique college experience as something that benefits the greater AU Committee. From Sigma Chi to the women's soccer team, and from working in the orientation office to intramural sports, I threw myself in wholeheartedly because the individuals around me made all of my time worthwhile and made AU a place I could call home," Sundermeier said.
For international studies and business administration major Alya Shaiful Bahari, the Carlton Savage Award recognizes her efforts to bring awareness of Southeast Asian culture to AU as President of the Southeast Asian Student Network. For Shaiful Bahari, it was also important to learn from other's cultures, "Having the ability to learn more about American culture and other people's culture is something I am so grateful for learning."
Bruce Hughes Award winner Lex Loro, who majored in print journalism and Women's, Gender, and Sexuality Studies, opened doors for queer women and people of color by bringing their voices into the queer conversation on campus, as well as serving in leadership and mentorship roles as an LGBTQ peer educator, resident assistant and orientation leader.
Jennifer Zolla, a business and economics major, won the Charles C. Glover Award for being a mentor for all levels of students coming into the Kogod Center for Business Communications, as well as a top-notch presenter at regional and national case competitions.
Catheryn Seckler-Hudson Award winner Haley Hawkins, a justice and law major, has not only served the AU community, but the D.C. community in her assistance and advocacy for survivors of sexual assault. As director of AU Student Government Women's Initiative, she has been in charge of large-scale events like Take Back the Night.
Music performance major Kaitlyn Mesic earned the Evelyn Swarthout Hayes Award for her dedication to music and helping her peers. Mesic, a violinist, is the highest ranking musician in the AU Symphony Orchestra and has been seen playing in ensembles and at events ranging from theater productions to the President's Circle Dinner.
Political science and secondary education major Grant Conway found a passion for education and mathematics in his time at AU. He has tutored AU students and taught D.C. students from preschool to middle school, earning him the Fletcher Scholar Award.
Each award recipient is a shining example of what it means to dedicate oneself to learning and growing during their university experience. Along the way they met and served others, and they explored how they would contribute to the world beyond AU.