Student Life
What's Happening on Campus? Engage Can Tell You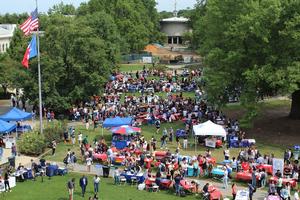 Let's say you're looking for the Hawaii Club. But it's not out on the quad with a blowup palm tree, as it was during the recent Student Involvement Fair.
Or you're into ballroom dancing but aren't sure how to meet others with your interest.
Or you're keen on cheese. Or beekeeping. Or a political cause – you know there are lots of passionate politicos on AU's campus, but how do you meet up?
Now there's a way, and it just takes a few seconds to download the app or log on.
The platform is called Engage. It was rolled out officially during All American Welcome and has already been used by over 4,000 students at events from Carnival After Dark to Drag Bingo to the performance by Capitol Steps.
The app itself goes by a different name – it's called Corq -- but think of it as a portable version of Engage, because they're linked and deliver the same information.
It's like having a friend who has memorized every billboard and calendar on campus and also knows where the cookies are found.
Want to search for, say, AU environmental organizations? Or LGBTQ+ groups? Career-focused societies? Religious services? Go to AU's site for Engage on your computer (or Corq on your phone) and have fun searching the categories or browsing over 230 student organizations.
You can read about groups, find out who to contact to join, and even discover what events have free food and free stuff.
That's right. Click on PERKS, which is under the EVENTS heading, to be in the know about food and swag.
This past week alone, free food was advertised at events ranging from the meetings for students interested the AU Design Club and The Eagle to a debate on China issues to the Black Alumni Panel, which was serving both free food and free stuff along with the chance to network with alumni.
The app also functions as a permanent event ticket. When going to events now, you can show your Engage barcode (which is in the Corq app on your phone) and it functions much like showing an AU ID. Of course, some events will still require specific tickets, but the barcode is already proving handy.
The Center for Student Involvement (CSI), which is the hub for student activities on campus, has rolled out the platform and app to streamline the once-clunky process of finding clubs and updating information.
You can find Engage on a link from the CSI home page and can get Corq on your phone by downloading it free from the App Store (for iPhones) or Google Play (for Android).