Achievements
Honoring Student Award Winners 2019 Student Award Winners Share Their Success Stories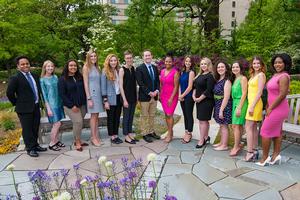 The school year is ending, commencement is around the corner, and some of the most high-achieving of AU's graduating students will be honored with coveted awards for leadership, scholarship, and service to the community.
The recipients will be feted on Friday, May 10 at the President' Program and Reception for University and Student Achievement Award Winners, and also at their schools' and colleges' commencement ceremonies, where they will be seated onstage.
Outstanding Scholarship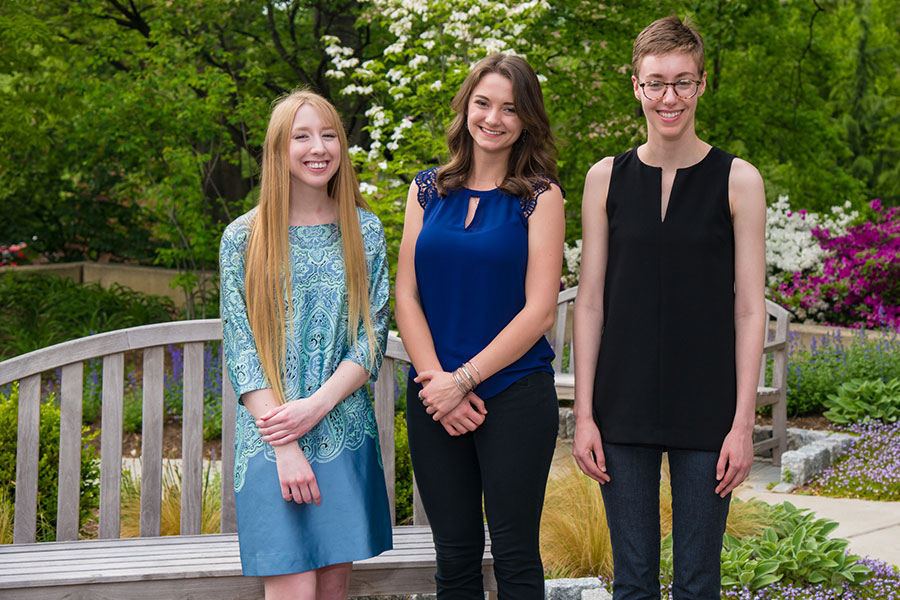 Four students are honored each year for top-notch scholarship: Two undergraduates and two graduate students. Casey Chiappetta, SPA '19, and Sabrina Jones, CAS '19, will receive awards for Outstanding Scholarship at the Graduate Level award, while this year's awardees for Scott A. Bass Outstanding Scholarship at the Undergraduate Level Award are Amanda Hodes, CAS '19, and Irena Volkov, CAS '19.
Casey Chiappetta is making her second appearance on the award-winning scholarship stage – she also won the 2017 award for Outstanding Scholarship at the Undergraduate Level. Continuing into graduate school, she became one of the most accomplished master's-level students at AU. Her work on the impact of legal aid on recovery from opioid addiction was so impactful that the MIE Journal framed a special issue around one of her articles, one of many she has published. "Receiving the Outstanding Scholarship award is the perfect way to round out my career at AU," Chiappetta said. "I'm excited to take what I've learned through coursework and my current role in policy and apply it in my field."
Sabrina Jones published eight papers for journals such as the International Journal of Obesity and Physiology and Behavior, on two of which she was the first author. Jones was also the first author on six research presentations at annual meetings, including the Eastern Psychological Association, the Society for Neuroscience, and the Society for the Study of Ingestive Behavior (SSIB). She also received the 2017 New Investigator Travel Award from the SSIB for her work in the field of behavior cognition and neuroscience. "Any accomplishments I have achieved during my time here would not have been possible without the constant support from members of the faculty and staff at AU," jones said.
Amanda Hodes graduates as an accomplished young writer who has published 10 poems in AmList Magazine, one of which was awarded as best in the show in Fall 2018 and has also published in Prairie Margins and Furrow Magazine. Her scholarship was also featured at several Robyn Rafferty Mathias Student Research Conferences and at the 2018 International New Directions in Humanities Conference at the University of Pennsylvania. "It was significant to receive this award because it represents my academic and artistic achievement," Hodes said. "I've found it really honoring and humbling to have this recognition."
Irena Volkov earned an award at the Rafferty Mathias Student Research Conference Award and has a pending paper on "Rapid Genomic Detection of Antimicrobial Resistance." Volkov was selected as a research fellow at the Amgen Scholar Program at Harvard University for undergraduate students in biotechnology in the summer of 2018. Through an AU's entrepreneurship incubator, she also founded Surgicure Technologies in collaboration with the US. Army Medical Command. She is developing a device that will allow for airways to remain open during surgical procedures which will help the post-surgery healing process. "I spent a lot of my undergraduate questioning whether I was going down the right path," Volkov said. "Winning this award lets me know I am on the right track."
Outstanding Service
Each year, the award for Outstanding Service to the University Community goes to two undergraduates who have made a lasting impact on the AU community.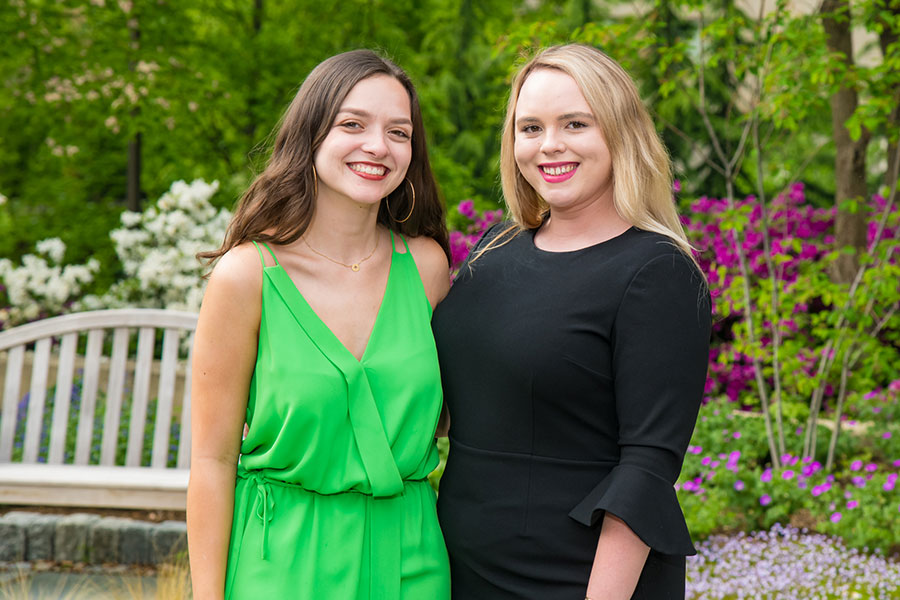 Daniela Martínez Berríos, SIS '19, has been a leader since her first year on campus – first as president of Nourish International, working on sustainable development for Peru, and then responding to the hurricane that struck Haiti by raising over $2,500 for disaster relief. Then another hurricane struck her own home, in Puerto Rico. She responded to her distress by taking action. She mobilized Puerto Rican students on campus and engaged other students and organizations to raise $2,500, collect 46 cases of water and gather other emergency supplies. That work evolved beyond a single relief project: It blossomed into a new organization, the Puerto Rican Student Organization, that helped create a sense of belonging for many on campus.
"It's kind of a pinch-yourself moment," Berríos said of the news about the award. "I think it's hard for people of color to give ourselves recognition, especially feeling sometimes out of place in the US, so it was just a really nice feeling."
Maureen Smith, CAS '19, has been a strong advocate for women's rights and advocated for an intersectional approach to programming and survivor support resources on campus. As Director of the Women's Initiative for Student Government, she organized over 40 different programs, including 10 feminist art-based events. As part of her work  towards inclusitivity and self expression, she oversaw the Breaking Ground Monologues production, which allowed individuals to express their complex relationships with their bodies. Last year, she led efforts to bring the founder of the #MeToo movement, Tarana Burke, to campus to honor her with the Excellence in Activism award. Smith also spent a summer working with the Center for Diversity and Inclusion's (CDI) Summer Transition and Enrichment Program (STEP) as a program assistant, serving as a residential mentor for 46 incoming first-year students.
Student Achievement
Nine high-achieving engaged students are being honored this year for their impact on the community with named Student Achievement Awards.
Gabriella Andrean, Kogod '19, will receive the Charles C. Glover Award for her work in combining business leadership and citizenship into a force for meaningful change. Andrean launched the annual Women in Entertainment Brunch, drawing over 50 attendees and a panel of professional women from the DC area. She also brought guidance and energy to the newly formed undergraduate Women in Business Club, where she organized and created events for educational and nonprofit entities. "I wanted to make sure people had the opportunity to network with experts in the entertainment industry and figure out where they fit," Andrean said.
Madison Chapman, CAS '19, has landed the Evelyn Swarthout Hayes Award for her work on and off the stage. Her AU productions as a performer, writer and choreographer ranged from Othello to No, No, Nanette to Carrie: The Musical, where she just concluded her role as the lead choreographer. "Theater and performance and art have made me who I am today and have instilled confidence in me, so it feels good to be recognized for my work," Chapman said.
Gisselle Gladden, Kogod '19, will receive the Kinsman-Hurst Award for her leadership in enhancing the student experience. As Budget Comptroller for Student Government, Gladden played a pivotal role in the financial aspects of the university. She managed a budget of over $500,000 to host events for Welcome Week, Founders Day, Wonk of the Year, and more. Gladden also oversaw the budget for student organizations and made the process more efficient and transparent by digitizing the budget request form and educating students on the budget process. "Ever since I was a freshman, I was involved on campus with different clubs," Gladden said. "Being in SG and helping clubs put on their programs and now being recognized for this award means a lot to me."
Joshua Hare, SPA '19, spent his time at AU building community and enhancing the experience of students – and it has led to the Charles Van Way Award. As an Orientation Leader, RA, and mentor in the Hillel Center, Hare's warmth and friendliness helped students and their parents understand what it means to be a member of the AU community. At the Hillel Center, he created the "Jew-It-Yourself" initiative to allow students to create their unique Shabbat experience. "I think a lot of people tend to take the community for granted," Hare said. "It's exciting that the university recognizes building and improving a community and welcoming others into it."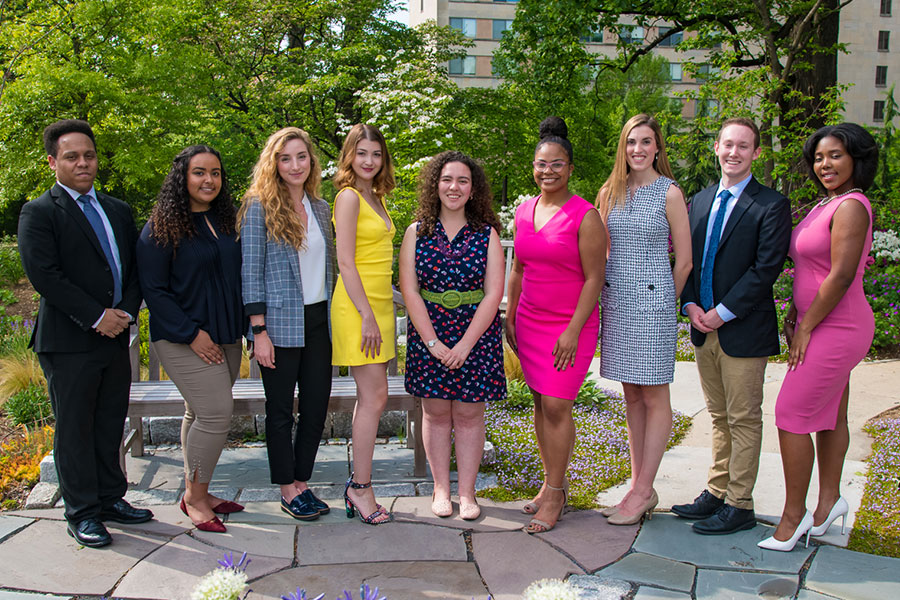 Nickolaus Mack, SIS '19, has gone above and beyond in building an inclusive environment at AU – service that won him the Harold Johnson Award. Mack's article in the Eagle prompted AU to investigate the impact of slavery on its history by raising critical questions about AU founder John Fletcher Hurst. He was also the student member on the Working Group on the Influence of Slavery at AU, which after a year of research, published findings and recommendations that will enable AU to grapple with our past and build an inclusive future. "I was very happy to have been part of a community that embraces this sort of discourse," Mack said. "AU being a place for people to learn and learn from is really important, especially on topics of race and diversity."
Emily Murtaugh, CAS '19, has received the Fletcher Scholar Award for her citizenships and leadership on and off campus. Working with the Center for Community Engagement and Service (CCES), she was a DC Reads tutor and team leader and served as the Grant and Research Chair for the Eagle Endowment Program, where she distributed over $1,500 for her peer's social justice initiatives. She also led an Alternative Break trip to Tamil Nadu, India to learn about structural inequalities connected to the caste system, specifically as it relates to education. "It is humbling," Murtaugh said. "I looked up to the people who won this award, so to think about the freshmen who will see this as something to aim for is great."
Nazlican Togrul, SOC '19, will receive the Carlton Savage Award, for an international student who has worked to promote community among domestic and international students. Togrul, who is from Turkey, used her positions as an RA, president of the International Student Association, and facilitator of an intergroup dialogue to strengthen these connections. "It's been great to be recognized for bringing the community together and appreciating all cultures and people from all different parts of the world," Togrul said.
Shayna Vayser, SIS '19, is an example of transformative leadership. The Bruce Hughes Award recipient founded and served as Executive Director for the AU chapter of No Lost Generation. Through her leadership, she raised nearly $20,000 for organizations in DC and abroad to support refugees and partnered with groups like the United Nations High Commissioner for Refugees and the National Immigrant Women's Advocacy Project. Vayser also wrote for The American Word and AWOL, where her work included interviewing such high-profile subjects as Karl Rove, Hasan Minhaj, and Donna Brazile.
Danielle Vinales, SPA '19, will receive the Stafford H. Cassell Award for her thoughtful and inspirational leadership. As president of the Epsilon Chapter of Latinas Promoviendo Comunidad/Lambda Pi Chi Sorority and Intercultural Greek Collective, Vinales has focused on creating community, building bridges, and helping members of the community find a sense of belonging., "I consider AU my home, and it's very important for me to give back, especially as an undergrad," Vinales said.
President's Award
President Sylvia Burwell has also selected Annelise Straw, SIS BA/MA '19, as the 2019 President's Award Winner. In addition to being recognized at Friday's program, Straw, who only a few years ago was working as a chef and has focused on food equity and fairness, will be honored at commencement with the highest distinction for an AU undergraduate.
All of these students have shone during their time at AU – inspiring their peers, impressing their professors and mentors, and making an impact on campus and beyond. The recognition they'll receive on Friday at the 2019 President's Program and Reception, and at commencement ceremonies during the weekend, is a powerful sign of their work so far. Then they'll move on to their future as alumni – and a chance for many more impressive achievements.