Achievements
Meet 2020's University Student Award Winners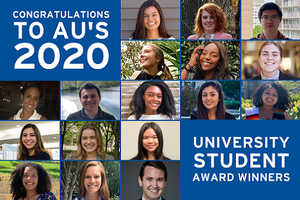 Years of hard work, thoughtful scholarship and committed service have earned these students the respect of the campus community. Now they'll receive the top university-wide awards for graduating Eagles, the University Student Achievement Awards.
While this year's winners can't be honored in person at a President's Reception and Ceremony – like ceremonies across the country, that tradition has been disrupted by the coronavirus – the awards are lasting proof of all they've achieved at AU and how profoundly their work has impacted others.
Here are the 2020 graduates who have been honored for their scholarship, service, leadership and campus impact with University Student Achievement Awards, which also include cash awards with the well-deserved applause. To learn even more about these students and what they've achieved in their time at AU, check out their stories on the University Student Awards 2020 Webpage.
Outstanding Scholarship
Four students are recognized each year for their scholarly achievements. Linda Amarante, CAS '20, and Zachary Bauer, SPA '20, will receive the Outstanding Scholarship at the Graduate Level Award, while Rachel Bernardo, CAS '20, and Zhiqi Lu, CAS '20, will be honored with this year's Scott A. Bass Outstanding Scholarship at the Undergraduate Level Award, named for AU's provost emeritus.
Linda Amarante, who is receiving her PhD in Behavior, Cognition, and Neuroscience (BCaN), earned a prestigious graduate research fellowship from the National Science Foundation (NSF) to help support her during her studies. A highly productive scholar, Linda has placed seven manuscripts in top-tier publications and presented at international conferences. Her dissertation investigated the role of the medial and orbital frontal cortex in value-based decision making.
Zachary Bauer, who is being awarded a PhD in Public Administration, has published in top-ranked journals on topics including immigration detention facilities and gender in organizational dynamics. He has presented widely at conferences and taught on the adjunct faculty at SPA. With a dissertation focused on the role of public management in immigration enforcement, his research has both theoretical and practical implications.
Rachel Bernardo, a graduating senior in the Public Health Program, has excelled academically since arriving at AU as a transfer student. Her impressive research work and internships have included health-care service in Kenya with HIV+ children and working on AIDS medication compliance in New York City. She has also volunteered in the Washington, DC community with DC Reads – and, in true scholarly fashion, analyzed her experiences in an article in a national, refereed academic journal.
Zhiqi Lu has not only excelled in the classroom in his double major in applied mathematics and computer science – he has put it to work in service of AU. His projects have included developing an internship website for the Computer Science Department and creating a login system for the Quantitative Academic Support Lab. He also mentored and supported his fellow students as a tutor and teaching assistant.
Outstanding Service
Each year, the award for Outstanding Service to the University Community goes to two undergraduates who have made a lasting impact on the AU community. This year's honorees are Isabella Dominique, SPA '20, and Meghan Lewis, SOC '20.
Isabella Dominique has worked intensively to foster inclusive and civil dialogue in multiple venues, including helping to build the proposal for the Project on Civil Discourse. She ultimately became Project Coordinator for the program, which supports and encourages free speech within the campus community and works to reduce polarization. Isabella was also selected as a 2019-2020 Newman Civics Fellow for students across the country identified for their leadership potential.
Meghan Lewis has been a compassionate peer mentor, steadfast advocate for LGBTQ voices, and thoughtful partner with faculty and administration around student needs and equitable practices. Whether as AUx Peer Facilitator, AU Pride Deputy Director, Community Based Research Scholar, or as a member of the Student Advisory Committee of the President's Council on Diversity and Inclusion, her commitment to service, scholarship, and leadership reflect AU's highest ideals.
Student Achievement
Ten of AU's most active, engaged and high-achieving students are being honored for their impact on the community with named Student Achievement Awards.
Britt Jacovich, SOC '20, receives the Bruce Hughes Award for her inspirational and wide-ranging leadership across many offices, organizations and classrooms. The roles she has taken on at AU range from the AU Career Center to the Sine Institute, AUTV, SPA Leadership Program and more – and in every setting, her classmates have been struck by her effectiveness as a peer leader and her ability to inspire others to explore their own leadership abilities.
Kaitong Zhou, Kogod '20, wins the Carlton Savage Award for her work to increase intercultural understanding. Coming to AU from Guangdong Province, China, she has made an impact on all levels, from one-on-one support to fellow students, to leadership at her school, Kogod, to programming across campus. Her dedication has led to greater awareness among faculty and staff about the needs and perspectives of international students at AU.
Cassandra Moore, SPA '20, earns the Catheryn Seckler-Hudson Award for her impact on awareness around Title IX and her advocacy of students impacted by the Student Conduct system. Among her achievements: She saw a need for a conversation within the Greek community about Title IX and spearheaded the creation of what has now become an annual event, with all Greek organizations required to attend.
Richard Tyrrell, Kogod '20, lands the Charles Glover Award for his ability to take leadership initiative in ways that reflect his care for the needs of others. From mentoring fellow students, to implementing programs that help others get off to a strong start, to assisting with the transition to online learning as a result of COVID-19, Rick has proven to be a leader with a heart.
Tehillah Grace Chitam, CAS '20, receives the Charles Van Way Award for her strength as a campus community builder. She is known not only for building community through her many activities on campus, but also for nurturing leadership ability in others, so that they, too, help to create a stronger, more welcoming AU.
Jordan Redd, SOC '20, the winner of the Evelyn Swarthout-Hayes Award, is a photographer and filmmaker with a purpose. In her leadership at the American Literary Magazine (AmLit), her work for the AU Women's Initiative, and her film and media projects, she has employed her artistic vision, organizational platforms and academic skill to create and promote the arts in ways that are impactful and memorable.
Arianna Lopez, CAS '20, has been awarded the Fletcher Scholar Award for her remarkable combination of scholarship, selfless service and citizenship. Lopez is a student-athlete who, when not training or in the classroom, partners with faculty in significant grant-supported work. She also makes time to serve as a peer facilitator and volunteer for DC children and at a local hospice.
Guadalupe Mabry, CAS '20, is honored with the Harold Johnson Award. She has been a passionate proponent of health equity and dialogue around race, privilege, culture and LGBTQ+ issues, bringing her engagement and leadership to numerous organizations, from the Center for Diversity and Inclusion (CDI) to the Black Student Union and League of United Latin American Citizens (LULAC).
Madison Mauro, CAS/SIS '20, earns the Kinsman-Hurst Award for her combination of scholastic achievement and service in Student Government and the Student Conduct system. She has worked at AUSG to increase funding for women's issues, served on the AU Conduct Council and Wellness Council, and served the community through teaching and tutoring – all while completing a double major, staying on the Dean's List, and being an active writer and editor for student academic journals.
Shadi Nasabzadeh, SIS '19, receives the Stafford Cassell Award for dedication to AU, profound energy, intellectual curiosity, and helpful spirit. The December 2019 graduate was a leader at the Kennedy Political Union, active at CDI, the Peace and Violence Research Lab, and more. She also engages in increasing youth political engagement, while making an indelible impression on campus with her extraordinary drive and moral compass.
President's Award
Cheldina Jean, CAS '20, was selected by President Sylvia Burwell as the 2020 President's Award Winner, the highest distinction for an AU undergraduate. The environmental science major exemplifies AU's ideals of academic achievement, leadership, and service. A passion for healing the environment and serving marginalized communities drives her work, from investigating the effects climate change and the Deepwater Horizon spill have on larval grass shrimp in South Carolina to restoring lily ponds at the Kenilworth Aquatic Gardens in DC. Jean aspires to develop water filtration technology to purify polluted water in developing countries and will continue her research through Yale's Chemical and Environmental Engineering PhD program.