Student Life
FSE: A Tradition of Service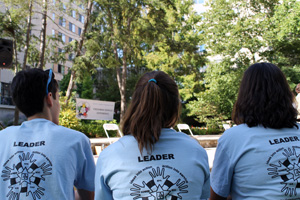 If AU has one tradition, it's a tradition of service. Of course, AU has many traditions, and the Freshmen Service Experience – at 21 years old – is one that uniquely captures the university's mission. From August 23rd to the 25th, 600 incoming freshmen and 100 upperclassmen leaders ventured into the city, bringing AU's spirit of service and engagement to the DC community.
Marcy Fink Campos, Director of the Center for Community Service & Engagement since 2004, has seen overseen half a dozen Freshman Service Experience events during her time at AU. Like others involved in FSE, Campos understands and appreciates the living history it represents.
Speaking at the event's opening ceremony, she said, "The Freshman Service Experience, now in its 21st year, is certainly a tradition at AU that we are very proud of. Even though it's a tradition, please be assured there is nothing stagnant or routine about this experience. It's a tradition that is reshaped, reformulated and revitalized by the people who carry it forward."
Under the theme "There's No Place like DC," students logged 10,000 service hours at 56 sites throughout the District. In an attempt to concentrate and maximize efforts, the FSE student council trimmed the program to two days as opposed to its usual three-day format. The types of work and sites varied greatly, ranging from teaching day laborers English in a Home Depot parking lot to office work like arranging voter registration packets.
Campos sees these projects as ways for AU to continually connect with the residents of the District of Columbia. She sent students into the field, explaining, "Your community service is a statement to this city that AU is a socially responsible campus that will not stay isolated in an affluent part of Northwest DC; that we are committed to being involved in the issues that affect the broader community."
SIS sophomores Stanislava Monova and Katie Fiegenbaum led a group of ten freshmen to City Gate, an organization that provides free afterschool programs for children in Northeast DC's public housing. At two of City Gate's sites, they interacted with high-needs children before wrapping books to promote childhood literacy and reading.
Raised in a small, rural town, Fiegenbaum echoed Campos in her vision of what FSE means.
"It's not only helping support the people in the community but also having a community effort," she said.
The opening and closing ceremonies featured public servants Paul Monteiro, Associate Director of the White House Office of Public Engagement, and Beatriz Ortero, DC Deputy Mayor of Health and Human Services. AU President Neil Kerwin also spoke, reinforcing FSE as an important facet of the university's original mission that reaches to today.
"Ever since there was an American University, there was an element of this institution's mission devoted to social justice, social responsibility, and service," he said. "It's embedded in the very fabric of this institution."
Since its inception, FSE has hosted almost 10,000 students, all of whom took up AU's mission before they started classes at the university. Many students have gone on to volunteer throughout their college years and begin careers in the non-profit or public service sectors after graduation. Even with the new academic Welcome Week programs offered, FSE remains filled to capacity, with a waitlist of students eager to open their time at AU by engaging in community service.
Along with their group of freshmen, Monova and Fiegenbaum will keep up their work with City Gate. In fact, they went back the following weekend to finish wrapping books. A Facebook group for their service members will keep everyone in touch and up-to-date on service days at the organization.
On the enthusiasm of her freshmen to continue their work, Monova explains, "We showed them the city. We showed them that it's not all about the museums."
Both Monova and Fiegenbaum plan on being FSE leaders again next year. Monova even hopes to join the planning council and have a larger role in shaping the event.
It's often hard to put a finger on what tradition actually looks or feels like. At AU, however, tradition is never more apparent than in the continued dedication to engaging and serving the DC community each year through FSE.