Student Life
FSE, an American Tradition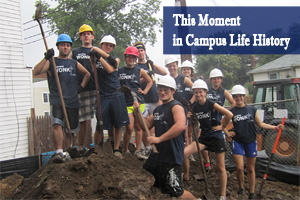 Of AU's many traditions, the Freshman Service Experience stands out as one that has roots reaching to the heart of the university.

"Part of why FSE began is the need to really engage incoming freshmen in the community in a very meaningful way," explains Robin Adams, assistant director of the Center for Community Engagement & Service (CCES). "Just as importantly is that it ties into our values of social justice work as an institution."

Adams has been involved with FSE for the past ten years, often overseeing the now two-day event that sends hundreds of incoming first-year students out into DC to volunteer with local nonprofits. From packing lunches for the homeless to working with HIV/AIDS centers throughout the District, FSE's mission is to introduce freshmen to each other, the university, and the Washington, DC community through service.

"It provides students with a chance to really understand the issues that impact the city through the lens of actually being involved in the city," says Donald Curtis, operations coordinator for CCE&S. Like Adams, he's also helped oversee FSE for years. "So, you're not just reading, thinking about things, or having someone tell you. It gives you the chance to actually dive deep and work beside people who deal with issues every day."

To enhance students' connection to the District, FSE also features evening programming on campus, hosting local musicians and poets as well as panelists on significant issues facing the local community. Prominent speakers open and close FSE, with this year alone bringing Washington DC Councilwoman Mary Cheh and US Congresswoman Eleanor Holmes Norton to talk with participating students about the importance of community service.

While the event's prominence has certainly grown over the years since its inception, CCE&S program coordinator Meg Rego sees importance in simply being a part of something that is now older than most of its student participants.

"You're part of a tradition that's been set here over the past twenty-three years," she says. "So, you're engaging in something bigger than yourself. You're connecting with other first-year students. You're connecting with mentors. Most importantly, you're connecting with the community of DC in a very direct, person-to-person experience."

Initially established in 1990 by the School of International Service as the Freshman International Experience, the program was designed solely for SIS students as a means to orient them to DC. CCE&S eventually took on the responsibility of coordinating the program and renamed it the Freshman Service Experience, inviting all freshmen to participate.

Since then, FSE has grown from a group of 30 freshmen students serving in the community to almost 600 freshmen and transferring students volunteering at 52 sites this year. Overall, more than 10,000 students have logged 221,712 hours of service through the FSE tradition.

Curtis believes the impact of this service on students can't be understated, as he's seen both academic and professional perspectives change as a result of FSE. Participants have gone on to intern and even work for the nonprofits that they first connected with through the program.

"I think it leads some students to further their service professionally," he explains. "When they come here, maybe they think they want to major in business, but by working with FSE either as a freshman or later as a leader or coordinator, they may want to work for a nonprofit or use their business degree to work in public sector areas."

School of Public Affairs senior Thomas Cheng was required to attend FSE through the University College program at AU. Because of this experience he's now one of five FSE student coordinators organizing this year's program. For him, the FSE was a defining moment of his college career.

"When I did FSE as a freshman, it was at Community of Hope [transitional housing] in Columbia Heights. It was the first time I had been in a place like that anywhere. I was very taken aback by everything I saw there and wanted to continue to work at a place like that," he says. "I continued working that year there with DC Reads. Ever since then, FSE has always been something I've wanted to be a part of."

Like Cheng, many students are inspired by their FSE experience and go on to volunteer through CCE&S. They become DC Reads tutors, promoting literacy across the District; they lead Alternative Break trips to explore social justice work abroad and across the US; they turn their passion for service into academic credit with the Community Service Learning Program; and they administer AU's Eagle Endowment, a student-managed fund that awards grants for students starting initiatives with the nonprofit they connected with through FSE.

Adams believes that all these avenues for engagement make AU something special in a city with a number of universities active in service. But it's not just the programs that make AU stand out; it's also the student.

"Community leaders value the work that FSE coordinators and leaders are doing," she says. "These [students] go out into the community and, not only are they happy to be there, but they're willing to engage. They see it as a long list of contributions they'll make over the next four years, and it excites the community to know that they're coming back."

So, while many universities have traditions that make an impact for students on campus, few can say they have anything like the Freshman Service Experience. It's a tradition both students and the local community alike cherish, and it's a tradition that shows the depth of AU's dedication to serving the people and place it calls home.