Student Life
Marianne Huger is Not a Crusty, Old Dean
By Patrick Bradley
March 5, 2012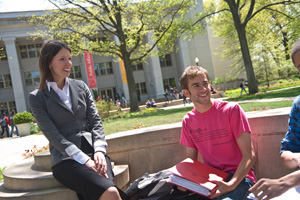 Marianne Huger practices yoga every morning. She rides with Capital Bikeshare. She loves cooking. She's also the assistant dean of students at AU.

"My grandfather loves pulling out his college yearbook with this crusty, old dean in it," she says with a laugh. "He loves pointing his finger at it and saying, 'This is what a dean is supposed to look like!'"

Her post-work passions included, Huger is a dean through and through, as she's also passionate about her place in enhancing the college experience for students.

"I like being around people when they're making big changes and figuring out who they are. That's a wonderful part about working with college students. College students are always on the cusp of figuring out what makes them tick," she says.

It was actually during one of those on-the-cusp college moments when Huger found the path to her career.

"I was a psych major, and I went to a dean to ask what I should do with my life. I was working in a psychology lab doing brain scanning work on little kids with ADHD. It was really interesting, but I wanted to work more closely with people," she shares. "I just went to a dean to see what options he thought I had. We had a great conversation. I went home and realized I wanted to do what he did."

Assistant dean at AU since 2010, Huger works alongside Assistant Vice President and Dean of Students Rob Hradsky and Associate Dean of Students Michelle Espinosa to help students succeed. She sees and advises a range of students each day, from those who are going through difficult emotional or medical situations to those – like her college-age self – that just need advice.

Through her own guidance as well as referrals to departments like the Academic Support and Counseling Centers, she hopes to prepare students for the daily experience of college and life after graduation.

"I tell students our goal is not that they won't have any more hurdles; it's that they'll know what to do when they have the hurdles. They'll have the supports that are there," she says. "We always expect a rocky road. That's part of the point of college – that you will be challenged."

For spring break, Huger is taking on a different sort of challenge with a group of AU students, as she serves as a staff advisor for an Alternative Break trip to Israel. To offset student costs, the group recently held a yoga fundraiser at the studio Huger frequents each morning. She sees the trip as an opportunity to engage further with the university's mission.

"I think that Alternative Breaks, in a lot of ways, exemplify what AU is about because of the social justice focus, the international focus, and the commitment it takes," she says. "I thought it would be a great way to see what students are up to."

The group will focus on the issue of African refugees in Israel, something that presents a complicated matter for parties on both sides of the situation. Huger, whose stepmother grew up in Congo, hopes the trip will help students look at and consider all sides of a circumstance – a skill her office tries to instill in students on a daily basis.

"I think that, a lot of times, when we hear about wrongs in the world, we have a knee-jerk reaction, go black and white, and think about what's wrong and what's right," she says. "Something that these [student] leaders have made clear is that there's no right answer to complex problems."

As she prepares for the trip, Huger remembers her grandfather's common misconceptions of what a dean is: crusty, out of touch, and a harsh disciplinarian. It's something she has a laugh about, but she strives to reshape that image and maintain an open door for students seeking direction, support, and the same sort of advice she once needed.

While her grandfather might not think she fits the bill, when it comes to a passionate attention to students, Huger is exactly the kind of dean that makes AU a great place to be.