Student Life
A Conversation with Betül International Students Play a Pivotal Role in the AU Community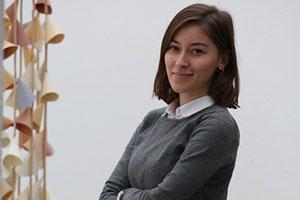 American University has always been a welcoming home for students across the globe. Betül Ozyilmaz is one of those students. Hailing from Istanbul, Turkey, Ozyilmaz is currently enrolled in the Social Enterprise graduate program in SIS. Here, Ozyilmaz discusses her time at AU and what she has learned inside and outside of the classroom.
1. Why did you choose AU?
I chose AU because Washington, DC is the leading hub for international development. I am studying Master's degree in Social Enterprise. In many European and American colleges, they teach social innovation under the business school curriculum. However, I study in the School of International Service where I gain a wider perspective on social impact and development side of social entrepreneurship.
2. What have you learned from studying at AU?
It is extremely important and beneficial to have a clear goal to work towards. Moreover, it is even more important to communicate our goals precisely.
3. What are the biggest differences you see between the university experience here and in your home country?
In Turkey, quality higher education is not expensive as much as it is here. Back in my home country, if we study really hard, we can enroll in the best universities free of admission charge.
4. What is one difference between education in your country and education in America?
In general, professors are more likely to engage with their students in America.
5. Has your experience here helped you gain an appreciation for how the world is interconnected on all levels (environmental, socio-cultural, and geopolitical)?
My experience here has completely helped me to better understand o acknowledge and appreciate the cultural diversity and how unique and beautiful each culture is.
6. Has your experience here helped you gain an ability to communicate effectively within and among diverse cultural groups?
It has helped me to first listen to them and see from their point of view. Then, we can meet for a dialogue where both parties can communicate effectively.