On Campus
Advocating for Health Why the Wellness Center Changed Its Name – and Why It Matters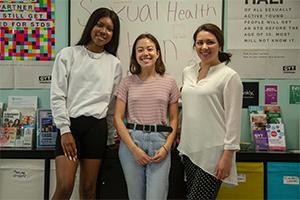 When returning students came back from summer break, they may have been startled by the disappearance of the Wellness Center. Did it move? Is it off campus? Did the center close?
Actually, it just has a new name — one that puts the spotlight clearly on the center's crucial advocacy role. The Wellness Center is now the Health Promotion and Advocacy Center (HPAC).
Why the new name? "Wellness can mean so many different things to people," says Mickey Irizarry, Director of HPAC.
"At some of my friends' schools, their wellness center is a yoga studio or a place where they go to meditate," says senior Maddie Ha, a Peer Health Educator and Women, Gender and Sexuality Studies major.
Mindfulness, healthy food and exercise — the things people often associate with "wellness" — are important, and the center always advocated for them. But the new name, HPAC, better expresses what the center provides, particularly around victim support.
OASIS, which provides services for victims of sexual violence, is a key part of what HPAC provides for students. There cannot be "wellness" in an unsafe environment. So yes, the old name touched on that. But there's more to it than that. There's advocacy. There's spreading knowledge of what sexual harrassment and violence is; what consent is; and empowering bystanders to speak. HPAC does all of that, and more.
The new Relaxation Room
The change in name follows other changes. Last fall, it moved to a more visible location in Hughes Hall 105. The new digs gave HPAC more room for new features, like a relaxation room equipped with a meditation pillow and a board for positive affirmation. It's also a space for student-moms who need to pump, and for anyone who needs a place to relax. "If students need a place get away from the craziness of campus, this room is for them," Irizarry says.
Healthy Campus Week 
How do you stay fit and healthy in the pressure cooker of campus life? Three of AU's wellness-focused units — HPAC, the Counseling Center and Recreational Sports and Fitness (RecFit)— are hosting a series of programs for Healthy Campus Week that focus on the physical, emotional and holistic aspects of being healthy at AU. Events include the five-year anniversary of Cassell Hall's fitness center; Fresh Check Day, which focuses on positive mental health and suicide prevention; and open houses for HPAC and RecFit that are a chance to learn about the two offices — as well as grab some healthy snacks.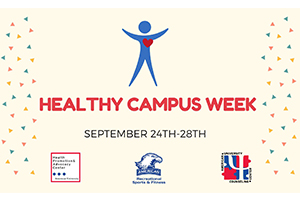 2018 Healthy Campus Week
The Partnership for a Healthier America (PHA) will honor AU on Tuesday, Sept. 25 for its ongoing efforts to become one of America's healthiest campuses, including completion of the two-mile fitness trail around campus. "This recognition is a celebration of the work we have done in physical fitness and providing better nutrition options for the AU community," says Irizarry – who was quick to point out that while the award is a great honor, there's still more work to do towards becoming an even healthier campus.