On Campus
AU Thanks Its Beloved University Chaplain Rev. Joseph Eldridge has built a community centered on spirituality and social justice in his 19 years at AU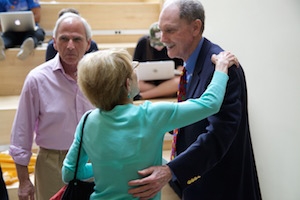 On April 26, a hundred current and former members of the AU community joyfully celebrated University Chaplain Rev. Joe Eldridge—the experiences he shared, the conversations he sparked, and the love he gave to the AU community. As School of International Service professor and Eldridge's longtime friend Philip Brenner said, everyone in the room "considers Joe their best friend."
Eldridge is the Kay Spiritual Life Center's ninth and longest-serving university chaplain. He will retire following commencement. Joe is an "AU treasure," according to Vice President Gail Hanson, and he has left an indelible mark, according to President Neil Kerwin. Reception guests also included Eldridge's family and Baltimore-Washington Conference United Methodist Bishop Rev. Marcus Matthews.
Love and Human Dignity
Eldridge's path to spiritual leadership at AU began with his father — Southern Methodist Preacher who taught a younger Eldridge to love others while growing up in the racially segregated South. "I grew up in a society that was permeated by racism and fear, and when I look at my relatives who were raised in families permeated by that fear, I am very different from them."
"I am different from them because of my father. My father understood that the nature of God was not judgment or wrath but the fundamental nature of God is love."
While his father provided the fundamentals for Eldridge, there were two other men of the cloth who helped him find his calling. "Dr. King changed my life," Eldridge said. "I am who I am because of Dr. King, Archbishop Óscar Romero, and all the people who battled for human rights, dignity, and who put their lives on the line for others."
Those men helped Eldridge follow a path that took him to Latin America to fight for human rights, and eventually led to his helping establish the Washington Office on Latin America (WOLA) and working with Human Rights First. But in 1997, Eldridge was "hankering for a change." Having never been a chaplain, before, he applied for the position of University Chaplain at AU, where he had received his master's degree from SIS in 1981. Unsure of what a University Chaplain did, Eldridge asked a colleague, who responded, "Loiter with intent."

A Servant-Leader
The University Chaplain position and Kay Spiritual Life Center had gone through a few transitions before Eldridge's arrival, according to the Kay's longtime Associate Roman Catholic Chaplain Dr. Karin Thornton. "Before Joe, it was totally different. There was not much leadership. I remember going to staff meetings where we argued all the way through," Thornton said.
The circumstances at Kay was so unstable according to Thornton that she asked Eldridge an unusual question during his interview. "I remember I asked a very stupid question: 'How long are you going to stay?" she said laughing as she recalled that moment. "Before Joe, there was a constant change of chaplains," Thornton said.
The attitude among students was also tense towards the newly appointed chaplain. "When Joe was selected to be chaplain, the students rebelled. They did not want him as chaplain because he had no experience being a chaplain," according to Brenner.
Eldridge also recounted the mood of students on campus after his arrival. "Students were unhappy that the position had been vacant for almost a year. So the students felt this position had been neglected. And there were ambivalent feelings about the president of the university. I was seen as someone who was appointed by the president, that feeling passed on to me. Part of my job was to build trust between this office and the students."
Eventually, Eldridge won over the Kay staff and student body by heeding to a famous observation by Archbishop Desmond Tutu: "Messages from the desk of God come through the stories of our fellow human beings. We only need to listen."
"That is my motto," Eldridge said, pointing to the quotation with Bishop Tutu's image on the wall outside his office door. "The way we interact and have any knowledge of God is through our interactions with our brothers and sister. Listening to our fellow human beings is a holy and transcendent act that connects us with the divine. And it is a discipline to learn how to listen."
Because of his desire to listen to people and have genuine conversations, Joe is often tardy for meetings and is one of the few people on campus given special leeway. "I have to build 15 minutes into my walks to meetings with Joe because people want to chat with him," said Jennifer Baron Knowles, Assistant Director at Kay. "He always has time for people."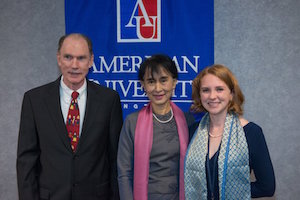 Courtesy Christine Gettings
Spirituality and Social Justice
Eldridge helped Kay Spiritual Life Center become a hub for social justice and courageous conversation on campus, in addition to bringing human rights to the forefront of U.S. foreign policy in his work off campus. Racial equity being a passion of his, he hosted periodic conversations about race at Kay among faculty and students. Eldridge has also brought important human right activists to speak to the student body. One such speaker was Burmese Democracy leader Daw Aung San Suu Kyi, who Joe helped bring to AU in 2011, with the help of his then-assistant director, Christine Gettings.
Gettings, now the Assistant Director of Global Learning and Leadership in the Center for Community Engagement and Service, considers Joe a close, personal friend. The Burmese Democracy cause was an issue she was passionate about, so this was an important moment for her. "I had the opportunity to meet Daw Aung San Suu Kyi and Joe was there for me. It was bringing two of my personal heroes together. It's one of those things I will look fondly upon in my life, and I am happy that Joe was there to share it with me."
From establishing Alternative Spring Breaks and advocating for human rights, to helping calm a nervous campus after Sept. 11, 2001, Eldridge made Kay the center of all of these events. In doing that, Eldridge showed the link between spirituality and fighting for social.
Kay's Methodist Chaplain Mark Schaefer said it best when he said, "Joe talks to a lot of students who are interested in justice work, and shares with them that this is a spiritual calling they have. These students never thought of it that way. They never took stock of what part of their self is being stirred. He helps them see it as their own spiritual growth."
Saying Farewell
As commencement nears and Eldridge's last day approaches, what is the final message he wants to give to the campus community? "Be kind, gentle, and just to one another. And remember that what happens to one of us directly, affects us all indirectly. If there are refugees in Syria, that affects us. If there is an earthquake in Ecuador, it affects us. If there is hunger in Ethiopia or Appalachia, it affects us. That's what we need to always remember."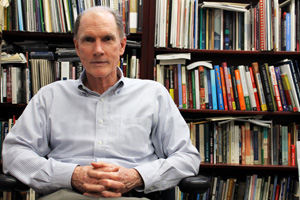 Courtesy Patrick Bradley
As Roman Catholic Chaplaincy Office Manager Martha Kerley observed, "Joe is irreplaceable." Eldridge's lessons will continue to enrich AU through the people he has taught, programs he has established, and passions he has encouraged. We know Eldridge will continue to "loiter with intent" for years to come.