On Campus
Student Media Launches "ATV Motion Pictures" ATV to help fund student films and video projects.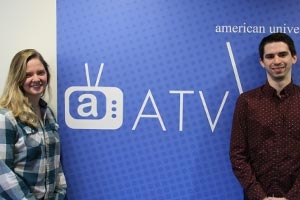 Are you a student with an exciting film or video project that needs just a few dollars to finish? Do you think you are creating the next Matrix, but a lack of capital is hurting your vision? 
Or do you just need a bit of funding to help finish a video for a class project? American University Television (ATV) wants to help you and other aspiring student filmmakers by offering up to $1,000 to help produce a video or film project through its new program, ATV Motion Pictures.
Inspiration
ATV Motion Pictures was conceived by ATV's Co-General Manager Ben Fall, who saw an opportunity to support his fellow students. "I was on Facebook one day over winter break, and I saw a friend at Brown University post something about a student movies showcase at their school. So I wondered, what we could do at AU that was similar, and my idea was to help produce movies," Fall said.
"We wanted to help the AU community to reach their dream and get whatever film production, music video production, video production out there because there are not many funding opportunities for aspiring filmmakers," he continued.
With that in mind, ATV Motion Pictures was born. The next step was for Ben to get buy-in from ATV and the Student Media Board to allocate a significant portion of their semester's budget to students who may not be ATV members. Abi Weaver, ATV's Co-General Manager, was one of those who bought-in. "When Ben brought this idea to me, I thought it was a great," Weaver said. "ATV is completely student-funded through the student activity fee. Everyone is welcome to join ATV, but only members of ATV can enjoy the benefits of the budget.
"It made sense for us to give back to other student filmmakers who may not have the time to commit to being part of ATV, but still want to make video and need money."
Fall and Weaver proposed the idea to the ATV executive board and the Student Media Board, as well as their staff adviser Chris Young and University Center & Student Activities Senior Director Mike Elmore. "Everyone loved the idea," Weaver said.
The Program
Currently, ATV Motion Pictures is taking applications on a rolling basis through Google forms. The deadline to apply is March 31. A six-member film commission – which Fall and Weaver co-chair – will review each application and bring applicants in for interviews to get more information about the project. The commission will decide who gets the funding later this semester.
"We are currently in the process of reviewing the applications, but we cannot tell you what the applications are about just yet," Weaver said while laughing. "The applications range from someone needing to cover translation costs for their thesis. Another applicant is working on a web series and needs better audio equipment. I have been excited about the applications that have come in so far."
Legacy
Fall and Weaver, both film majors who graduate in May, want ATV Motion Pictures to be a lasting staple for the AU community and have dreams of something bigger. "A lot of the learning in the film department takes place outside of the classroom, so we want ATV Motion Pictures to help students pursue that—especially undergrads," Weaver said.
"Whether it's SOC or private donors, we want more money to come into the school for student film and video projects," Fall added. "I hope it expands beyond ATV and partners with the School of Communications where all the films we fund, once they are completed, can screen in the Foreman Theater so that the whole AU community can view and see the work of a fellow community member." The deadline to apply for the ATV Motion Pictures grant is March 31. Submit your application today!
Follow ATV:
Web: www.atv.com
Twitter: @AUATV
Facebook: @AUATV
Instagram: @AUATV
YouTube: www.youtube/AUATV