On Campus
AU Among "Schools Jews Choose"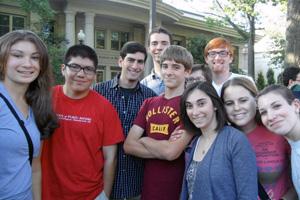 Jason Benkendorf knows AU is a great place for Jewish students. As executive director of American University Hillel, it might be his job to think so, but it turns out he's got the evidence on his side.

"This is one of the schools, particularly one of the private schools, in the country that is widely seen in the Jewish community as a great option for Jewish students," he explains. "We have one of the largest Jewish populations of any private school in the country."

AU's vibrant Jewish community has gained serious recognition as of late, landing the university on ReformJudaismMag.org's Top 60 Schools Jews Choose list before nabbing Hillel.org's #13 spot for Schools by Jewish Student Population.

It's no mystery, Benkendorf explains, why so many Jewish families look to AU as a good place to send their students. With an interfaith chapel on campus housing chaplains from two dozen faith groups, AU is known for its commitment to supporting each student's pursuit of his or her beliefs.

"The Jewish community in the US rightfully perceives AU as a place where it's not only easy to be Jewish but where Jewish students can have meaningful experiences as Jews within this community," he says. "We want to make sure that every Jewish student has opportunities to explore and express their Jewish identities in meaningful ways."

And Hillel offers a host of meaningful opportunities, as Benkendorf notes.

From student-led Shabbat service and free dinner every Friday night to High Holiday services and Passover Seders, Jewish students – as well as those interested in the faith – can take part in their traditions. Just last week, students attended Rosh Hashanah services on campus as they looked toward those for Yom Kippur this Monday and Tuesday.

For Benkendorf, an AU alum himself, it's extremely important to have that foundation of traditions available to students.

"As a baseline, we provide opportunities for Jewish students to celebrate holidays, the Sabbath each week, and do the basics of Jewish life," he explains. "There are a lot of students who are looking for that. Those are the core Jewish experiences they've grown up with, and it's important for them to continue having those experiences now that they may be away from their families."

The campus ministry is also interested in reaching out to those who may not be seeking a religious experience but simply want a Jewish community to participate in. With that in mind, Benkendorf organizes social events on campus, and – through Hillel – Jewish students can take birthright trips to Israel.

"We're focused on reaching out and getting to know students as individuals. Not everyone is going to walk into Hillel on day one or at any point before they graduate, but that doesn't mean those students aren't open to connecting with Jewish life on campus. It's on us to be proactive in reaching out to them, getting to know them as individuals, and finding the right experiences for them."

At AU – a university committed to community action at a global level – the right experiences Benkendorf describes include a social justice-minded base. Hillel's new social justice intern will be planning events and opportunities throughout the year for students to engage in service. The ministry will even lead a Spring Service Experience abroad to Bulgaria this year to explore issues facing the Jewish community there.

"We're focusing more and more on creating a social justice program," he says, "so students who feel inspired by their Jewish roots to engage in service work and trying to make the world a better place have the Jewish community as one platform from which to do that."

Whether in AU Hillel's weekly services or its new social justice focus, it's clear that Jewish students have a vibrant, well-rounded community on campus in which to grow and learn. Without a doubt, it's a community that will keep American University high up on the list of Schools Jews Choose for some time to come.



Learn more about AU Hillel.