Achievements
AU Chaplain Appointed to Board of US Institute for Peace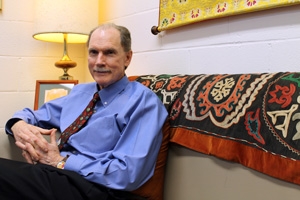 Twenty-eight hours after President Obama raised his right hand to be sworn into his second term, university chaplain Joe Eldridge swore the same oath, just farther down the Mall.

After a grueling six-month US Senate confirmation process, Eldridge was named to the Board of Directors of the United States Institute for Peace (USIP).

"It's a big deal for me," he says. "I'm humbled to be part of that board. It's an honor. It's a sphere that's not my usual peer group. It's great. I hope honestly that I can make a meaningful contribution."

USIP – founded in 1984 and housed on the National Mall – promotes ground-breaking peace strategies and the mitigation of conflict around the world. As a part of the organization's sixteen-member bipartisan board, Eldridge will help steer USIP's larger mission.

Though the group has yet to meet for their first of four quarterly meetings, Eldridge is more than excited to get started.

"The board is primarily responsible for governance and setting the overall policy framework," he says. "To the extent to which I can help the institution think with imagination about innovative ways to advance peace, I want to do that."

While Congress exited the grips of the fiscal cliff crisis last month, Eldridge's confirmation was one of the final items to come across the Senate's agenda. It was a relief for Eldridge, as pushing his confirmation to the next Congress would have restarted his six-month vetting process from scratch.

"This was apparently one of the last acts of the United States Congress that afternoon on January first," he says. "As the curtain was coming down on the One Hundred Twelfth Congress, the Congress approved forty of the President's nominations, including me."

Eldridge received his nomination to the new post through Iowa Senator Tom Harkin. Long-time friends since 1976, when Eldridge led Senator Harkin to Chile to investigate atrocities committed under the Pinochet regime, the two have traveled extensively about Central America together for similar issues. The Senator also nominated Eldridge's wife to the board almost two decades ago.

Coming from a religious approach to human rights, Eldridge believes he's a bit unique among his colleagues on the board; though he sees room for him to work during his four-year term.

"I think my background is a little unusual. I'm the only chaplain," he says. "They do have a program on religion and peacemaking, which I do hope to be more acquainted with."

LEARN MORE: AU's International Peace & Conflict Program.

Also an adjunct professor in the School of International Service, Eldridge has taught in the school's International Peace & Conflict Resolution (IPCR) program skill-building institutes, where he also helped pioneer a social entrepreneurship master's program.

He believes his new post with USIP mirrors much of what AU is all about.

"This is a very publically minded university. We're a private university with a public mission," he says.

Particularly, he'll be taking what he's learned from his work with the IPCR program, whose philosophy statement promotes 'the transcendent power to look for ways of resolving differences, reaching reconciliation, and creating social healing.'

"These are my marching orders," Eldridge says. "I hope to bring, to the extent that it is possible, that witness to my fellow board members."

So, while he may be off campus and on the National Mall making change, Eldridge will be carrying a bit of AU's heart and soul with him as he fulfills his oath and helps promote peace across the globe.