Student Life
Do Something! September 2017 Edition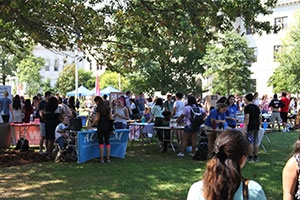 With classes starting and the weather getting cooler, you may be wondering what to do on campus and in D.C. We have put together a list of events taking place this September on and off campus for when you need a break or an activity to do with friends.
This Sunday, September 10th, the 39th annual Adams Morgan Day festival will take place on 18th street Northwest. The festival will include live music, live performances, and various workshops. There will also be food samples from the many restaurants in Adams Morgan. The event is free to attend, so stop by and enjoy the fun.
The Student Involvement Fair will take place on Thursday, September 14th, from 11:30 a.m. to 2:30 p.m. on the Eric Friedheim Quad. This is a great opportunity for new and returning students to talk to the leaders of some of the 250 student clubs and organizations AU offers about the upcoming year. Do not miss out on this chance to make good connections and find out which group you want to join.
The International Students and Scholars Services office will host their Global Café on September 15th in Butler 410 from 3 p.m. to 5 p.m. The event is designed for AU's international students to connect and share their campus experience with each other. All students are welcome to attend, and there will be snacks, music, games, and smiles.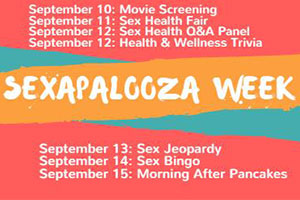 Let's talk about sex! The Wellness Center is dedicating the week of September 11-15 to the topic of sex. Sexapalooza is a week of events where you can learn about boundaries, proper sexual health, and the resources on campus to help you on your journey. The week involves a movie screening, sex health fair, trivia, jeopardy, and pancakes. Check out these and more upcoming Health and Wellness events.
September 16th brings one of the best street festivals in D.C. The H Street Festival is an 11-street block party with 14 distinct staging areas for different audiences. There will be specials and food samples from the restaurants on H Street as well as live music, performances, arts, poetry, and more. This is a great way to venture into a different part of the District.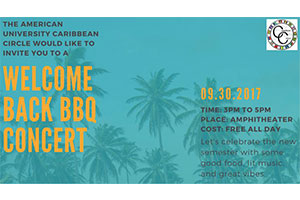 On Saturday, September 30th, the Caribbean Circle will host a Welcome Back BBQ and Concert in the Amphitheater. Celebrate the new semester with good food, music, and vibes. It goes from 3 p.m. to 5 p.m. and is free for all AU students.
Finally, the month of September will have major artists performing across the D.C. area. Although the Ed Sheeran concerts on September 19th and 20th are sold out, there are still tickets available for Depeche Mode, The Weeknd, Arcade Fire, Katy Perry, Nipsey Hustle, Bruno Mars, and many others at the various venues in the D.C. area. When classes are over and you have free time, a concert at one of D.C.'s great live music venues may be a good way to unwind.
For more information visit:
Capitol One Arena
The Howard Theatre
The Fillmore
U Street Music Hall
The Birchmere
Do you have an event coming up we should know about? We can help get the word out! Contact us on Twitter or Facebook @AUCampusLife. And follow us to stay to date on things to do!