In the Community
Freshmen Tackle Social Justice Issues in D.C. Explore D.C. allows incoming AU freshmen to volunteer in different neighborhoods of D.C. through service projects.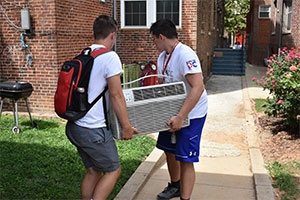 When many Americans think of D.C., the nucleus of U.S. politics may come to mind, or the famous landmarks and free museums. However, when one looks closer, they find that there is more to this city than meets the eye.
The glamorous sights from Capitol Hill often cause D.C. residents to overlook the many wonders this city has in its valleys, which are lush with culture. The Explore D.C. program (EDC) invites incoming freshmen students of American University to traverse the heights on a quest to serve these overlooked communities through social justice.
"To get out here and to get a better understanding of the issues that these communities face and to serve these organizations...will hopefully make a difference," freshman EDC participant Adam Deakin said.
This year, there were five focus areas an incoming freshman could choose to participate in: education, hunger and homelessness, community health, immigration and refugee issues, and environment and sustainability.
Members of the youth programs and education area visited the Latin American Youth Center, where they listened to a panel discussing the center's impacts on youth in the area.
Students that selected the hunger and homelessness area assisted at Miriam's Kitchen, where they were educated on chronic homelessness in D.C., sorted donations, and led guests in bingo.
Those who participated in the community health area helped at a community health center called Iona St. Albans, where they worked one on one with elderly individuals.
Participants in the immigration and refugee area volunteered at CARECEN, where they painted classrooms, cleaned and were involved in outreach.
Volunteers in the environment and sustainability area worked at the Oaks Park Conservancy, where they helped by pulling invasive plant species.
This was the first of many opportunities for incoming AU students to volunteer in the community, and hopefully this experience helped motivate the students to educate, grow, and contribute to the AU community.
"Experiences like these are beneficial for a lot of students," junior EDC leader Kris Schneider said. "Everybody should have an experience like this."
The Explore D.C. Press Corp Staff includes:
Morgan Bowlsby, Justin Horowitz, Garrett LeRoy, Jesse Pearlmutter, Cecilia Markley, Tanner Mecham, Lia Messinger, Jeremy Robinson, Nilofer Siddiqi, James Skiest, Thomas Recchio, and Taylor Whittington