Partnering for Success The Market, AU's Food Pantry, Aims to End Food Insecurity for AU Students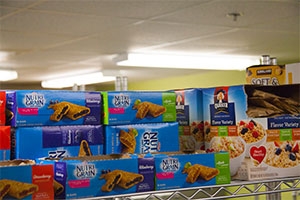 Imagine you are seated in class. You are engrossed in your professor's lecture and taking notes to prepare for a paper, a mid-term, and a final. Imagine that work multiplied by several classes. Then add on co-curricular activities with your student organization or an internship downtown. Imagine all of that while being unsure of where your next meal will come from. That could be the reality of someone sitting next to you in class.
According to a December 2016 survey of 700 AU students conducted by Emily Dalgo, CAS-SIS '17, 44% of AU students at some point have dealt with food insecurity - the lack of reliable access to sufficient qualities of affordable, nutritious food. Another 59% of AU students were aware of another student who did not have enough food. This aligns with a national survey data reporting that 48% of students surveyed at colleges and universities across the U.S. did not have enough food in the prior 30 days.
"I wanted to take action to try to change the conversation and help students who have struggled with food insecurity feel heard and understood," Dalgo said.
One person who studied the survey closely was Vice of President of Campus Life Fanta Aw. "During my time in Campus Life, I met with students who struggled to afford food," she said. "I was particularly struck by the lived experience of a transfer student from the West Coast who worked 35 hours a week, while taking a full course load, who was put in the position of choosing between purchasing books and having decent meals." Aw and several departments under the Office of Campus Life umbrella helped individual students with their food crises in the past, but this instance struck a strong cord with her.
"Listening to the student and seeing the impact this was having both emotionally and physically, I understood then and there that I could no longer be silent and had to act," Aw said.
The Market
Aw and Dalgo collaborated to determine what AU could do to end student hunger on campus. They researched and consulted other colleges and universities. Through those talks, research, and observations, The Market, AU's food pantry, was born. The Market's objective is to prevent any student from having to skip meals and go hungry because they cannot afford enough to eat.
"Working with Dr. Aw was such a positive experience," Dalgo said. "She truly became a friend and mentor in my final semester at AU; we would meet at least once a month to talk about the pantry and to update each other on the steps we had taken since we had last spoken."
"Student hunger can be a barrier to learning, and we wanted to remove that obstacle for our students," Aw said. She took great care in envisioning every aspect of The Market, from maintaining the privacy of the students who access it, to partnerships across campus and the D.C. region, to even the name itself.
"The name 'The Market' is inspired by the fact that we want to be sure that those who use the food pantry are able to preserve fully their dignity. We want to mirror the experience of going to a market," Aw said.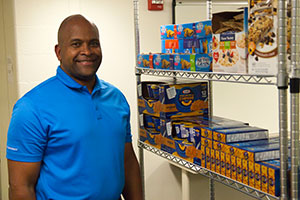 Tony Hollinger
The Market opened on Sept. 5, launched by Tony Hollinger, Director of Student Engagement & Diversity Initiatives for the Office of Campus Life. Hollinger will oversee the pantry and will be engaging student staff and volunteers to make it a truly student-focused effort.
"The Market is one of the most important and gratifying projects I've been involved with," Hollinger said. He has been busy managing a unique coalition of campus partners internally, and securing food externally from vendors and community partners like The Capital Area Food Bank. Hollinger also rolled up his sleeves to physically prepare and stock the pantry. "It gave me a good chance to get a workout," Hollinger said with a smile.
Only the Beginning
AU students are committed to engaging with and mobilizing around important issues and concerns. Sometimes these causes reside outside the institution, and sometimes they are in support of the person sitting next to you. The Market is a unique opportunity for Eagles to help fellow Eagles succeed.
Bringing key stakeholders from different parts of the AU community together to realize The Market is something that cannot be understated. "What is gratifying and unique about The Market is that it is reflective of us at our best as an institution-working together to find solutions," Aw said. Despite the successful launch of The Market, Aw does acknowledge that there is still more work that needs to be done to end student hunger at AU.
"The Market is one aspect of a larger issue related to food insecurity. It is a first step. We look forward to working in partnership with faculty and programs that are engaged in research and identifying systemic solutions to the problem of food insecurity in communities," Aw said.
One person that is happy about this first step is Dalgo. "I'm incredibly happy that the food pantry came to fruition and is now open to students. It has been remarkable to see how quickly AU came together to make this need a reality," she said.
"When I first decided to launch my survey, this is exactly what I hoped for-the opening of a necessary resource on campus for students in need. I'm humbled to have played a part in a project that has involved so many resourceful and compassionate minds," Dalgo said.
AU community members are encouraged to help those in need connect with the food pantry. The Market is open daily between 6 a.m. to 12 p.m. and 2 p.m. to 2 a.m., and is located in Letts Lower Level, Room 2. Any AU student may request access by filling out an online form. Access is granted within 48 hours, and students can enter the space using their One Card. If you have any questions, please email TheMarket@american.edu.
Community members wishing to support The Market may make a contribution through our online giving form. Thank you for being part of this effort.