Student Life
AU Students Build Friendships Across Party Lines
The 2016 general election is only a week away, and although this contest has been one of our nation's most divisive, the College Democrats and College Republicans have found common ground.
"We are all in this together," said Tom Hebert, President of the AU College Republicans. "As student clubs we have the same challenges. … The last thing I would want to do is lose a friend over politics."
Morgan Stahr, President of the AU College Democrats, added, "We are all young people trying to find our way in the world of politics."
That shared understanding has helped the two opposing political organizations come together this semester. "[AU College Democrats] always did a BBQ, and we thought it would be cool to include the College Republicans," Stahr said, referring to the Bipartisan BBQ the two organizations hosted in September. "We did not want it to be about politics, but instead a coming together over good food. I think a lot of people were shocked with how well we got along."
The two organizations were among several groups, including the Kennedy Political Union, that co-sponsored an event with Anna Navarro and Patti Solis Doyle on campaign ads. They also partnered with Student Government for TurboVote, an initiative to try to register all students on campus to vote in this election.
Common Ground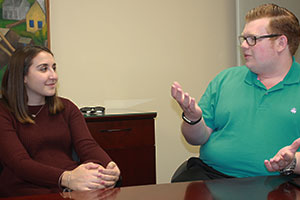 Morgan and Tom share conversation
Courtesy Raheem Dawodu Jr
The agreeable relationship between the two organizations may not have happened were it not for a chat between the two presidents last spring. "I remember when Tom and I first met," Stahr said. "The conversation was supposed to be only 20 minutes to plan for the upcoming semester, but it ended up being a three-hour conversation about our lives."
Shortly after that initial conversation, the candidate Stahr supported for the U.S. Senate in the Pennsylvania Democratic Party primaries won. "Tom texted me to congratulate me on the win. It was about what it means to us as friends, not politics," Stahr said.
"Focusing on common ground with people is a lot better than focusing on differences," Hebert said. "If Morgan and I just talked about whether [Democratic presidential candidate] Hillary Clinton would be a good president, we would never speak, and would have never become friends."
The political junkies in both organizations share a lot in common - from their love of canvassing and being politically active, to their small town upbringings. In fact, a couple hail from the same town. Stahr and Robbie Rosamelia, Chief of Staff of the AU College Republicans, are both from Hazleton, Pa., which is a very conservative town.
When the AU College Republicans became only the fourth College Republican chapter in America to announce they would not endorse Republican presidential candidate Donald Trump, the news did not go well back in Hebert's and Rosamelia's respective hometowns.
"My county had one of the largest voter turnouts in America for the Republican primaries, and about 85% supported Trump. A lot of my friends and family could not believe we would not endorse Trump," Rosamelia said.
Herbert echoed this, saying, "Rochester, N.Y., is a Kodak town. When Kodak failed to adapt to digital pictures, a lot of people lost their jobs. Trump is very popular in my hometown because of their stance on trade. It was very interesting to see the different aspects of my party when comparing the AU community versus back home."
The AU Community
Morgan and Tom at the BBQ in September
Courtesy College Democrats and College Republicans
Even with the interparty and intraparty division, the AU community has been civil regarding this election. "I had a class with someone who is a huge Hillary Clinton supporter, and I was part of the AU Students for Rubio group," Rosamelia said. "We never talked to each other in class. The day after Rubio dropped out of the race, she came up to me and said, 'I understand what losing a campaign is like. I wish Rubio would have been the nominee because it would have been friendly competition between us. Listening to you in class, Trump is not what someone like you deserves.'" That exchange really struck a chord with Rosamelia, who said, "That is what the institution of American politics needs."
Despite the challenges of this election season, Emily Hamm, Deputy Campaign Director of the AU College Democrats, has advice that goes across party lines: "Vote. If you are disappointed your candidate was not nominated for president, you should still vote. The down-ballot [congressional and local] races are very important and impact your community."
Election Day is Nov. 8. Get out to the polls or send in your absentee ballot to your home state. AU TurboVote can help guide you through the elections for wherever you vote!