Achievements
AU's Top Leaders AU Student Award Recipients Serve and Lead with Smarts and Heart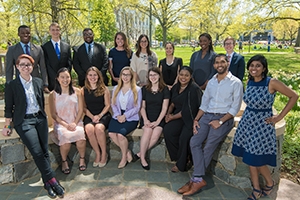 On Friday, May 11, AU will get the Spring commencement celebrations started when it honors its top students for their academic achievements, leadership and service. The University Student Awards are presented to selected graduating students who, in their own way, have made a mark on the AU community.
Academic Leaders
Graduate students Brian Clark, SIS/MA '18, and Erin Matson, SIS/MA '18, are both being recognized with the Outstanding Scholarship at the Graduate Level Award.
Clark maintained a 4.0 GPA while serving as the US Naval attaché to the Republic of the Philippines at the US embassy in Manila. Despite being 12-time zones away from campus, Clark attended every weekly live session of the International Relations online program. Clark's recent research centered on international negotiation and conflict resolution, which has been critical in helping the embassy gain a deeper understanding of conflict causes and cultural.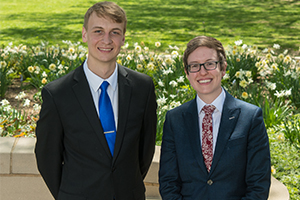 2018 Outstanding Scholarship Recipients
Nathaniel Edenfield and Erin Matson
"The opportunity to direct my research throughout my IR program to topics germane to what I actually do was invaluable, from gaining a deeper understanding of the dynamics of US/Philippine basing negotiations, to post-conflict transitions in Marawi City," Clark said.
Matson also maintained a 4.0 GPA in SIS's Global Environmental Policy Program. Matson's passion for sustainable farming, food systems, and racial and environmental justice comes back to her experience as founder of an organic urban farming business in Chicago. As a research assistant, Matson gained praise from professors for her creativity, intellectual savvy, and her ability to synthesize even the most obscure resources.
"My own research on Chicago urban farmers' perceptions of and engagement with climate change will, I hope, serve some future utility as policymakers and practitioners seek to translate global discourses on climate change mitigation and adaptation into tangible action at a community-scale," Matson said.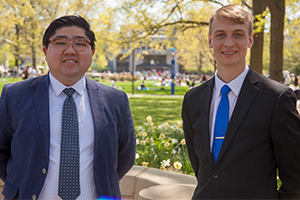 2018 Outstanding Scholarship
recipients Daniel Oshiro
and Nathaniel Edenfield
Seniors Nathaniel Edenfield, CAS/BS '18 and CAS/BA '18, and Daniel Oshiro, CAS/BA '18, are both being recognized with the Outstanding Scholarship at the Undergraduate Level Award.
Edenfield's professors have noted that his work is on the level of graduate students and have observed that he is able to hold his own with master's and PhD candidates. Edenfield's commitment to intellectual curiosity and persistence led him to find little-known sources that led to original research. He reviewed previously untapped World War I federal archives that revealed the root of ongoing conflicts about the relationship of primary commodities. His economics capstone was presented and praised at academic conferences and a paper based on his research is currently under review by the journal Issues in Political Economy.
"Whether at the local, national, or international level, my research is important to better understand the challenges and changes society faces that are rooted in our relationship with natural resources," Edenfield said.
Oshiro's kindness and intelligence has been an inspiration to his peers, along with his pioneering work . His independent study combined cultural sociology, the sociology of music, and ethnomusicology to consider the dynamic between racialization and commercialization in Asian American hip-hop artists seeking success in international markets. The depth and originality of Oshiro's research lead to him being invited to present at regional and national gatherings of sociologists and ethnomusicologists.
"My research has also provided me the unprecedented opportunity to combine my two passions, music and sociology, in ways I never thought possible," Oshiro said.
Service Leaders
AU Experience program (AUx). Torriente went on to teach as an AUx peer leader in the pilot phase of the program.

"AUx is a result of that work and I'm optimistic that years down the line, AU students will be some of the most critical members of society who will use their understanding of their place in the world to change it for the better," Torriente said.

For Belinda Peter, SIS/MA '18, creating a more inclusive campus is a professional and academic passion. Working in Development and Alumni Relations, she has helped connect alumni to students by working with several alumni affinity groups and being a key planner in the Black and Latinx graduation celebrations. As a graduate student in the International Peace and Conflict Resolution program, her studies made her an ideal candidate to take part in AU Connects, a campus-wide inclusion initiative that provides trained facilitators who can help guide constructive conversations around issues of race and ethnicity.

"Helping facilitate and being part of incredibly honest and crucial conversations on campus has not always been easy, but I have always walked away better for the experience," Peter said. "AU Connects gave me a chance to put into practice what I learned in my classrooms."

For Yamillet Payano, CAS/BS '18, stepping up to serve has been part of her story since she arrived at AU as a Gates Millennium Scholar. Payano brought Caribbean, Latinx, international, immigrant and undocumented student communities together at AU and founded the Cross Campus Organizing Network to connect with students from area universities. She also served on the President's Council for Diversity and Inclusion, and during her final semester, she stepped in to the role of SG president.

Achievement Leaders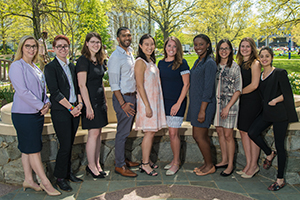 2018 Achievement Award Recipients
AU will also honor 11 students who have contributed their talents and time to AU and the greater D.C. community through their leadership, mentorship, service, and community-building.
Evelyn Swarthout Hayes Award recipient Isabella Gaitán, CAS/BA '18, had played an important role in arts scholarship at AU. Her research on Colombian artist Ana Mercedes Hoyos was selected for the 27th Annual Robyn Rafferty Mathias Student Research Conference. Choosing the work of Hoyos as the subject of her paper was a personal matter for Gaitán.
"It was an internal void I felt that really needed further exploring," Gaitán said. "Combining my love for Colombia and art history was ideal for me."
Charles W. Van Way Award recipient Olimar Rivera Noa, SIS/BA '18, built community at AU through her roles with the Center for Diversity and Inclusion, as a teaching assistant, and in her creation of the Puerto Rican Student Organization. Rivera Noa mobilized her fellow students in the aftermath of Hurricane Maria, which hit her home of Puerto Rico.
"The support and solidarity we received from students, faculty, and staff members kept us hopeful and gave us strength to continue to work and build a cooperative network of Bouricuas," Rivera Noa said.
Catheryn Seckler-Hudson Award recipient Christine Machovec, CAS/BS '18, has been able to balance many roles to have a successful career at AU. As a tutor in the Academic Support and Access Center, Machovec worked many hours to help students who needed assistance in economics and statistics. As comptroller of SG, Machovec helped many student groups have successful events by funding their needs. She also was the principal second violin in the AU Symphony Orchestra.
"Being involved on campus enriched my AU experience beyond academics," Machovec said.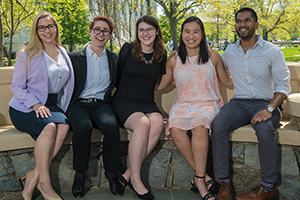 2018 Achievement Award recipients
Gilda Goldental-Stoecker, Lee Clyne,
Mary-Margaret Koch,
Christine Machovec, and Saagar Gupta
Like Machovec, Frederick Douglass Distinguished Scholar Winter Brooks, Kogod/BA '18, also took on many positions on campus and is recognized with the Charles C. Glover Award. Brooks served as peer consultant for the Kogod Center for Business Communications where she presented effective business communications to up to 15 classes a semester. She served as director for community engagement for the Undergraduate Business Association and president and service chair for the Lambda Zeta Chapter of Alpha Kappa Alpha Sorority Inc. Brooks also mentored students in D.C. schools and brought 100 first- through seventh-grade students to visit campus.
"I've always been very conscious and have always felt a responsibility to pay it forward in any way I can," Brooks said. Kinsman-Hurst Award recipient Lee Clyne, CAS/BS '18, provided a strong voice in the efforts of sexual assault prevention, LGBTQA+ advocacy, and Title IX awareness. Clyne served as co-executive director of Students Against Sexual Violence (SASV), an executive board member of SG's Women's Initiative, co-president of the Gamma Beta Chapter of Iota Iota Iota Honor Society, and a peer educator through the Center for Diversity and Inclusion.
"I've found that although it can be draining, social justice work is also fulfilling," Clyne said.
Fletcher Scholar Award recipient Gilda Goldental-Stoecker, CAS/BA '18, was often by Clyne's side. Goldental-Stoecker was co-director of SASV, where she increased student awareness of national and campus policies regarding sexual violence, Title IX, and victim's rights. Goldental-Stoecker was also the health coordinator for Women's Initiative, where she organized a self-care book club and helped bring #MeToo founder Tarana Burke to AU. Goldental-Stoecker was a transfer student to AU, but still made her presence felt on campus.
"AU has embraced me with my ambition and drive, while also challenging me to focus on measured results in a way that I do not think I would have gotten elsewhere," Goldental-Stoecker said.
Carlton Savage Award recipient Sigrid Ulsnes, SIS/BA '18, is possibly the face international students see the most. Ulsnes was vice president of the International Student Association, helped arrange the International Fall Gala and the Spring Cultural Festival, and assisted with the Language Exchange Program. In the role of international student orientation coordinator, Ulsnes helped welcome nearly 600 international students and recruit 50 orientation leaders. And as a student staff member for International Student & Scholar Services, Ulsnes aided many students in handling their immigration documentation.
"It has been important, especially in the last year, to create a space where all students feel welcome and to create such a space and assist international students in navigating AU," Ulsnes said.
Harold Johnson Award recipient Taylor Dumpson, SPA/BS '18, also contributed to promoting cultural and racial inclusion in our community, while doing so with confidence and resilience. She held leadership roles with the Intercultural Greek Collective, Student Advocates for Native Communities, and SG. She also led an Alternative Break and helped launch the newly re-imagined Explore DC program. One of Dumpson's lasting contributions was leading the creation of the Hub for Organizing,Multiculturalism, and Equity, known as HOME.
Stafford H. Cassell Award winner Emily DeMarco, Kogod/BA '18, has shown tremendous commitment to AU despite some setbacks. After no longer being able to play for AU's field hockey team, DeMarco helped the team succeed by volunteering as team manager and videotaping and coding games for scouting. DeMarco even crafted her academic schedule to attend every practice and travel with the team, and did so while still maintaining a high GPA.
"I felt as though I could still bring value, energy, and support to my teammates even though I was not playing," DeMarco said.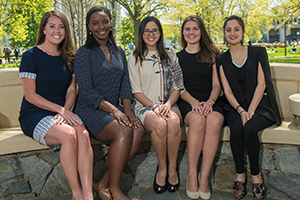 2018 Achievement Award recipients
Emily DeMarco, Winter Brooks,
Olimar Rivera Noa,
Sigrid Ulsnes and Isabella Gaitán
Mary-Margaret Koch and Saagar Gupta were both awarded the Bruce Hughes Award for their maturity in leadership and their service. Koch's deep commitment and understanding of social justice and public service helped her win this award. As executive director of mental health advocacy for SG, she built campus awareness around student mental health and strengthened ties between SG and the AU Counseling Center. And Koch's capstone research on mental health challenges faced by college students afforded her the opportunity to present at the 2017 Depression on College Campuses Conference.
"If my work has in any way helped the Counseling Center be better able to serve its students, then everything I've done on this campus will have been worthwhile," Koch said.
Gupta was recognized for his work as coordinator for the Eagle Endowment Fund, where he led a seven-person advisory council that allocated funds to student service projects. In that position, he helped craft the proposal that won the Eagle Endowment Fund the top prize of $10,000 in the 2017 "Generous U" competition. He was also committed to service as program specialist for the Community-Based Research Scholars and diversity and inclusion chair for Sigma Phi Epsilon.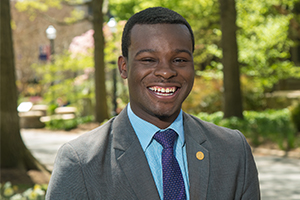 President's Award
Recipient Shyheim Snead
"Leadership is something that is really important to me, and it was important to be honored and make an impact on the community that will last after I am gone," Gupta said.
In addition to these dynamic leaders, President Burwell has selected Shyheim Snead, SPA/BA '18, as the 2018 President's Award recipient.
Each student recognized with a University Student Award helped change this campus for the better. Thanks to the peers, professors and staff mentors who helped them along the way and nominated them for these awards, we are able to share their stories.