Student Life
Award-Winning Wonks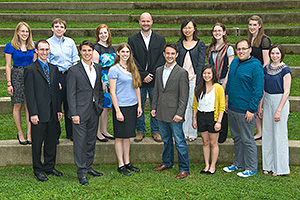 At the close of each academic year, the university recognizes outstanding students at both the graduate and undergraduate levels, a tradition that dates to the first honors convocation held in 1929. The top honor goes to the winner of the President's Award. The remaining awards highlight the diversity of strengths and contributions made by others in the student body.

From academic excellence and leadership to exemplary service to the university, the awards presented at a special program and reception on Friday, May 11th honor a group of students who best represent the engaged community of wonks that make up American University.

Academic Honors

Brian Hanson is one of two undergraduate students being recognized for academic achievement with the award for Outstanding Scholarship at the Undergraduate Level. The recognition caught him off guard.

"To be honest, it's a bit shocking, but it's a big honor," he says. "What a way to end my undergraduate career."

A political science major with a 3.99 GPA in the School of Public Affairs, Hanson is quick to credit his success to the supportive academic environment at AU.

"I couldn't be more thankful to my professors, the deans at SPA, and my advisors and mentors throughout," he says. "It wouldn't be possible without them."

School of International Service student and Phi Beta Kappa member Elise Alexander is the recipient of the second undergraduate scholarship award for her stellar GPA and work focusing on the Middle East.

Peter Kimball, an MFA student in film and electronic media, and SIS PhD recipient Dylan Craig will take home the two awards for Outstanding Scholarship at the Graduate Level for their impressive academic achievements. Like Hanson, Craig shares his sense of accomplishment with AU faculty.

"The part that really resonates with me is the idea that it's simultaneously our triumph and then the triumph of everyone that backed us up and kept us going," he says. "I feel like I'm collecting an award for a collaborative achievement."

Outstanding Service

Along with honors for outstanding scholarship, the university recognizes two students for exemplary service that has contributed to improving the university and furthering its mission both on and off campus.

Undergraduate Nate Bronstein and Washington College of Law student Justin Shore will receive the awards for Outstanding Service to the University Community. 

Past Student Government president, Bronstein was selected for the award because of his impressive service efforts that included co-founding AU's Community Service Coalition and AU's chapter of Colleges Against Cancer and also establishing an AU chapter of the Lion's Club, the world's largest international service organization.

Shore is being recognized for his tireless work with the National Security Law Brief and WCL's inaugural conference on health and human rights, as well as for his leadership in launching Project LEAD, a group that paved the way for the addition of a counseling clinician at the law school to address the mental health needs of WCL students.

Student Achievement

Selected from a competitive pool of nominations, eleven students are being recognized with Student Achievement awards for their contributions to the campus community. The ten, named awards – with one going to two students this year – recognize a wide range of undergraduate accomplishments, from promoting diversity and inclusion to strengthening the university through activities like Student Government.

School of Communication's Pang Dao Moua will receive the Harold Johnson Award for her work to improve the campus climate for multicultural students, while Yating Wang will take home the Carlton Savage Award for her dedication to intercultural exchange and for serving as a role model to AU's international student population.

A Phi Beta Kappa member and student committed to growing the School of International Service's Gateway program, Meredith Lukow will be honored with the Bruce Hughes Award.

"I feel really honored because there are so many amazing students graduating in our class," Meredith says, stating that the award gives her momentum heading into the professional world. "To be recognized as one of the best is something I never expected, and I'm really grateful for it. I'm definitely more confident about the next steps."

For their active leadership in Student Government and service in the campus community, Philip Cardarella and Nate Bronstein will be awarded, respectively, the Kinsman-Hurst Award and the Cathyrn Seckler-Hudson Award. For his dedication to business learning, Kogod School of Busines student Christian Kingston will be presented with the Charles C. Glover Award, along with Miranda Schaeffer, of the School of International Service, who will receive the Fletcher Scholar Award for her work on social justice issues.

Described as a "green wonk" by her professors, Jennifer Jones will receive the Stafford H. Cassell Award in recognition of her work on environmental issues. College of Arts & Sciences' Tonei Glavinic will accept the Charles W. Van Way Award for his efforts to make AU a more diverse and inclusive campus community. 

Vocalist, actress, and music educator Meg Palermo and dancer Lauren Christie will both take home Evelyn Swarthout Hayes Awards for their exceptional contributions to AU's arts community.

Christie, who has represented AU at the American College Dance Festival, sees the award as acknowledgement of her tremendous dedication to her art over the years.

"I'm really grateful," she says. "I've enjoyed the past four years, and I've done a lot of hard work. It's really gratifying to have that recognized."

Whether for their academic or service-oriented achievements, each of these award winners is a standout in AU's highly accomplished student body. They are smart, passionate, focused, and deeply engaged in their work. Essentially, each of these students represents a new kind of wonk – the wonk's wonk.



For a more information about the University Awards program go to www.american.edu/universityawards.

For a more information about the 2012 Commencement go to
www.american.edu/commencement.