On Campus
Black History Month, a Diversity of Experiences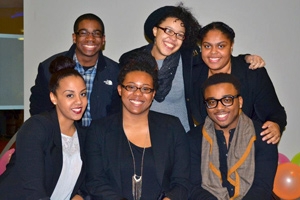 Black History Month at AU celebrates diversity both in history and on campus today, but this year's calendar of events looks to diversify that look at diversity.

Caroline Deleon is particularly excited about this new approach. As coordinator of multicultural and first-generation programming in AU's Center for Diversity & Inclusion, she helped students organize February's packed programming schedule.

"Black History Month, to me, is about celebrating an entire diverse culture," she says. "It's also about addressing the needs of the culture in today's society."

So far, the month has featured mainstay events like the Black Student Alliance's Apollo Night, an African Diaspora dinner, and an excursion to the Martin Luther King, Jr. memorial. This year, however, also includes events highlighting women's issues and the intersections of identities within the black community.

School of Communication and Kogod School of Business junior Tya Scott echoes Deleon's excitement at the new outlook. As president of AU's Alpha Kappa Alpha Sorority Inc. chapter – a historically black sorority on campus – she worked with Deleon to add the variety of perspectives, breaking away from the month's traditional mold.

"When so many people think of Black History Month, they just think of those civil rights leaders in the past," she says, referencing figures like King, Rosa Parks, and Frederick Douglass. "It's so much bigger and grander than that. Sometimes we focus so much on them that we miss the other elements that go into the month."

EXPLORE: See the month's events calendar.

The collaboration between Deleon, Scott, and a number of other students has produced a schedule packed full of more than twenty events – a strong showing for a month of only twenty-eight days – and Deleon is pleased that students themselves dictated so much of the direction.

"It has to come from the students," she says. "The programming, the need has to come from the AU community. It's something I'm strongly passionate about."

Sophomore political science major and vice president of the Black Student Alliance Charles Walker believes the newly established Center for Diversity & Inclusion has made an impact on the dialogue around diversity – something that has carried over into the month's well-attended events.

"In terms of programming this month, it's been very successful," he says of working with CDI. "From that merging, it's been able to acknowledge the intersectionalities of different movements, communities, and leaders."

For Deleon, those intersections could include anything touching on the LGBT experience, socioeconomic disparities, and gender within the black community – intersections seen more and more on campus.

"That's what as a [department] we're called to do and help the broader AU community understand," she explains. "Although we focus on Black History Month, culture, and identity, we also have to realize that there are changing demographics and that people are coming to the table not necessarily siloed with one identity."

VISIT: AU's Center for Diversity & Inclusion online.

With that in mind, Scott references her sorority's blood drive as well as events targeting women's health and wellness in the black community. Supported by a new look at Black History Month, she's proud to sharpen the month's emphasis to, ultimately, get a longer process of change started.

"Focusing on specific women's issues is something that just needs to be done. It's something we try to promote," she says of AKA. "People enjoy talking about it, but if no one starts the conversation, the conversation will never be finished."

For Deleon – though she's happy with the month's good work – she may not be satisfied until time passes. Ten years down the road, she wants to look back and see how the concept of diversity evolved on campus, paving the way for future students.

"I think of it in the long run of what's the legacy we're leaving as well as what we are doing that's educating the university now. What are the needs?" she says. "That's where I set the baseline for students to think about."

That legacy starts this month, as AU's celebration of Black History Month diversifies its look at diversity.