Student Life
Bringing Something New to AU Student Creates the First Asian-Interest Sorority at AU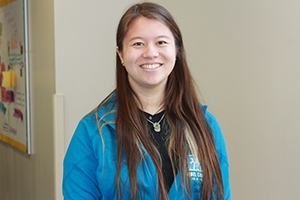 Being a trailblazer means that a person is ready to start a new path for others to follow in the future. Kirsten Jay, a print journalism junior who is also minoring in entrepreneurship and management in the Kogod School of Business, is a trailblazer.
In addition to her academic responsibilities, Jay is president of the Asian American Student Union. One would think Jay's plate is already full, but she has decided to take on another challenge— establishing AU's first Asian interest sorority. "It is kind of surreal. I never saw myself being part of Greek Life," Jay said. "And it is a unique opportunity to bring something new to AU."
Luke Cage

Jay's idea of launching this sorority came from the Marvel Comics universe when one of the characters on the Netflix show Luke Cage made a reference to Alpha Kappa Alpha Sorority, Inc., or AKA. That excited one of Jay's friends, who happens to be a member of AKA and was watching the show with her. Jay said it made her wonder, "Why don't we have an Asian-interest sorority on campus?" After thinking it over, Jay said to herself, "I might as well just do it."
With that in mind, the San Mateo, Calif, native embarked on a journey to establish the first Asian interest sorority at AU. She put flyers around campus to recruit interested students. Seven other women joined Jay, and they embarked on finding the right sorority. After the group of eight interviewed several Asian interest sororities, they unanimously decided on a sorority.
"The sorority we chose, really stood out to me personally because of how connected all of the sisters are and how much they value taking care of each other, encouraging leadership development, and their emphasis on service.
"That type of community that is focused on personal growth — i.e., sisterhood — and focused on community engagement — i.e., service — all influenced by the group's focus on cultural diversity, really made us feel that this particular sorority was the perfect fit for us and for AU," Jay said.
Currently, the women are organized as interest group officially known on campus as AU², but that will change if the group is approved at a the sorority's national convention this August. "There will be a thousand people in the room," Jay said, laughing while recognizing what is ahead.
The group will be allowed to begin new member education this fall to let potential members know about the values of the organization before officially calling themselves the name of the chosen sorority, in Spring 2018. The approval process also includes a presentation in front of AU's Intercultural Greek Collective (IGC) steering committee. The presentation had two important guests.
"The president and vice president of the national organization actually live in the D.C. area, and they were in attendance for the presentation. That was a little intimidating but very exciting because they are the people we must get approval from at the national conference in August," Jay said.
Leaving a Legacy

Jay is aware of the impact of establishing this sorority in the long run. "Having this sorority be available—fingers crossed—for future students is exciting," she said.

Jay sees AU², as something important for the entire campus community, not only Asian students, because a student does not have to be Asian to pledge the sorority.
Jay hopes AU² can provide students who are interested in a sorority to have more options. "We aim to remind people that there are Asian students on this campus. Also, there is this part of Greek Life that is focused on your culture, and how you grew up and your shared experiences, which I think is not something you get in non-cultural group Greek Life. So that unique space, I hope, will bring awareness to the campus about diversity, sisterhood and belonging."
The reactions from Jay's friends and classmates have also helped propel her forward in this process. "When you hear people say to me, 'Oh that is so great, I wish that started when I was a freshman,' or people I don't even know talking to my friends about the group, I think that makes it all worth it."