In the Community
Community-Based Learning Gives Students First-Hand Experience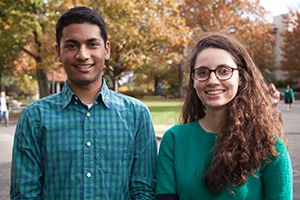 In her volunteer role with the transitional housing nonprofit DC Doors, Rim Filali recently had one surprising task: to play with children. Turns out, it was far more eye opening than she could have anticipated.
By watching the handful of kids, the School of Public Affairs junior allowed their parents—homeless and newly housed clients—the opportunity to receive valuable job training in the small, row house office.
"Their parents were so generous and so thankful that I was just sitting there and playing with their kids," Filali said. "To have someone watch over them while they can find an opportunity to put food on the table for their children, it's humbling."
As part of her community-based learning course The Latino Community of the DC Metropolitan Area, Filali and six other classmates volunteer each week at DC Doors—doing everything from client interviews and writing housing contracts to cleaning the office each Friday.
Founder and executive director of DC Doors Janethe Peña has seen a great benefit for the students as well as for her organization through this new partnership. In fact, as an AU alumna herself, she's loved having the students complement her full-time staff of three.
"They've been great because they're open. They're open to learning and to hearing different points of view," she said. "They're walking away with an array of knowledge. They can carry that and take it back to wherever they go on to and say, 'I've seen this first-hand. I know these issues.'"
Kogod School of Business junior Roshan Thomas, also a volunteer with DC Doors, appreciates the experiential learning component of his course, which is not unique at AU. More than 24 courses carry the CBL designation, requiring 20 volunteer hours per student at a relevant nonprofit during the semester.
"Everyone is able, in their writing and discussions, to bring in stories of what they're experiencing in their particular organizations," Thomas said of his 17 fellow classmates, who are volunteering in public schools and charities alike. "This is so much more integrated and in-depth than most courses. It gives a more holistic understanding of the topic. . . . That's the type of education I just don't think we get enough of."
In seeing DC Doors move largely Latino immigrant families off the streets and into housing, students have learned about issues of poverty, homelessness, and immigration. At the same time, they've seen various facets of a small nonprofit at work.
"They get to see how the program is run, how executive decisions get made. They get to interact with clients through social work. They get to see all the different areas that make up a small nonprofit," Peña said.
A business student interested in startups, Thomas is particularly thrilled by this.
"With a small business, a lot of times it's all hands on deck. You have to take out the trash but ten minutes later could be meeting face-to-face with a client," he said. "I think it's really cool that you get to see all aspects of the operation."
At the end of their volunteer days, however, both Filali and Thomas are proud that their efforts go beyond simply helping their grades to truly helping people in need and understanding different lived experiences. For them, the fact that these opportunities exist says something about AU's character.
"AU is ahead of the curve. It's just one of our values. Community service, public service, and civic duty have always been a very large component of AU," Filali said. "Helping others has always been a large component. To have these classes is showing that you're actually doing something about it."
Before the semester ends, both Filali and Thomas will soon lead their own professional skills workshops for clients in hopes of improving their job prospects. But that won't be the end for either student.
"It's been just hugely impactful," Thomas said. "I want to continue next semester. I feel like I've found a niche, a place where I belong, fit in well, and am making a huge difference."
As for Filali, she'll always have the memory of that surprising task and how she's learned to see—in context—the value of even the smallest gestures of help.
"It's just playing with kids, but there's a whole backstory to it, which this class has taught me to look at," she said.