Achievements
Daughter Inspires Undergrad to Earn Degree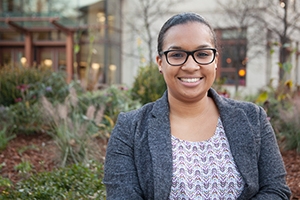 Betsy Romero is a proud crier. She had one of her happiest cries five years ago, when she found out she'd be attending American University on a number of scholarships.
"I couldn't believe it. It was my first and only choice," she recalled. "I was crying in my kitchen."
She had good reason for her tears of joy, as her admittance to AU marked both the beginning and end of a long journey to become the first in her family to graduate from college.
Born in the Bronx, N.Y., to immigrant parents from Honduras, Romero has walked a difficult path marked by the death of her father at a young age, 10 years spent in poverty back in Honduras, and the birth of her own daughter during her teenage years.
"There have been a lot of downs, but good things also happened. If I hadn't had my daughter, I don't know where I'd be. I don't think I would have had that extra push," she recalled. "I'm so grateful that that spark or light came out in me."
Now 28 years old and finishing her bachelor's degree in Latin American area studies, Romero has gained the attention and admiration of many on campus—including assistant vice president of Campus Life Fanta Aw, who chose her for the prestigious Charlotte Newcombe Scholarship for mature women.
"What impresses me most about Betsy is her optimism and the fact that she does not resign herself to what could be barriers to her succeeding," Aw said. "She understands the value of an education, not only for her but for her family."
Romero returned to the U.S. from Honduras at age 19 and soon found herself in D.C. with her now long-time boyfriend Edgar. She has spent her last four and half years as a full-time undergraduate student at AU while also working full-time as a data manager at D.C.'s Latin American Montessori Bilingual Public Charter School.
Plus, she's the full-time mom of two children, ages 3 and 12.
With that in mind, Aw is pleased for Romero to receive support from the scholarship she administers, particularly as more students fitting Romero's profile come to AU.
"The persistence rate of mature women can be challenging because life happens. Many times, because they have to raise their families, they end up being the breadwinner for their family," Aw said. "That's why it's so important that you have a scholarship like this. . . . This is another element of diversity and inclusion."
Romero plans to use her degree to better serve her community. A fluent Spanish speaker, she already helps immigrant parents from across Latin America with documents regarding their children's education and other items. She also provides her services as a notary public to them free of charge.
She sees it as a way for her to pass on the gifts she's received in her success.
"I'm very grateful and blessed to be part of AU and for the people that support my education," she said. "Not everybody gets the opportunity. So, I feel like one of the lucky ones."
In that way, Aw knows that Romero's presence at AU will benefit not just her and her family but really anyone her work touches.
"Particularly for the community that she's a part of and wants to lift up, she will be an incredible role model for generations of Latinos and Latinas coming up," she said. "She has a real sense of responsibility and commitment to her community."
As Romero wraps up her finals and looks to cross the graduation stage, a few tears are already welling up. She'll be thinking of her late father and family in attendance when she accepts her degree.
But she's not stopping there. After some time away to focus on her daughter and son, she'll return to AU once more for a graduate degree in international development, and she encourages others in her situation to follow suit.
"The knowledge I gained here will be the power to do what I want and help others," she said. "Getting an education is fundamental, no matter where you come from and where you're trying to go."