On Campus
Kuwaiti Minister of Education Headlines International Business Event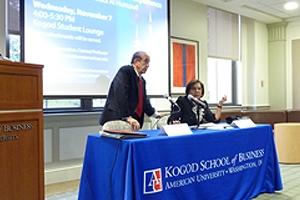 When Dr. Moudi Al-Homoud, the Kuwaiti Minister of Education, spoke at Kogod on Nov. 7, her message was clear: In Kuwait, "unemployment has a feminine face."
She was referring especially to the public sector in Kuwait, where only 4 percent of the workforce is female. "Scarcity of relevant role models, lack of culture fit, and existing business politics and hierarchies are among the barriers to female leader advancements."
The fifth in a line of speaking engagements organized by Ghiyath Nakshbendi, executive-in-residence in International Business, the event's focus was "Women in Business: Kuwait Experience." Dr. Al-Homoud, who is also minister of higher education and chancellor of Kuwait University, was the feature speaker.
Dr. Al-Homoud spoke on the accomplishments of Kuwaiti women in areas of education, politics and economics, but also highlighted the challenges they face in gaining equal employment opportunities to their male counterparts.
She also highlighted the discrepancy between the number of young, educated women in Kuwait, and the number of women in the workforce. She is working through her roles to change the status quo and bring about awareness to the benefits of having skilled women in the public and private sectors of Kuwait.