In the Community
AU Freshmen Experience the Satisfaction of Service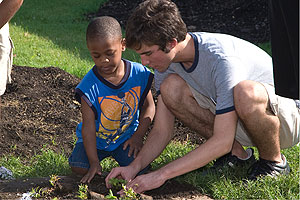 Surveys and flyers in hand, Ryan Hunter and Mia Breidenbach wiped the sweat from their brows and turned down a side street in Mount Pleasant, a Washington neighborhood not usually found on the front of tourism brochures.

The American University students were canvassing the neighborhood on foot, knocking on doors and talking to residents for the Latino Federation of Greater Washington. Two of a record 640 students participating in AU's 19th-annual Freshman Service Experience (FSE), Hunter and Breidenbach spent their week in Mt. Pleasant, Columbia Heights, and Adams Morgan gathering data on the area's Hispanic population.

"I thought this was a great opportunity to see the real D.C.," said Hunter, a native of Long Island, N.Y. "One of the reasons I chose American University was not just to volunteer, but actually to have a long-lasting effect on the community. When I visited with people here, most everyone was very friendly. Diversity is a big draw for me. I really don't want to close myself off in a little bubble."

AU students conducted more than 200 interviews with residents of all races and ethnicities in Washington's Ward 1. The Latino Federation designed the survey to help evaluate the community's attitudes toward Latinos so it can better tailor its services to the needs of the population (roughly 18 percent of which is Latino).

"We would never have been able to do this without the students," said Elizabeth Shrader, operations director of the federation. "They have so much energy and enthusiasm, it's really been tremendous."

The same theme rang true through 46 sites in all quadrants of the city (and Prince George's County, Maryland). By the time it's all over, students will have put in more than 14,000 hours of hard work.

"It's the largest FSE group we've ever had, which is a sign of a very committed incoming class," said Marcy Campos, director of the community service center. "From the site side, with the recession and financial downturn, many of these sites are even more understaffed than usual, and the need in the community is even greater."

Nowhere was that more evident than across town in Northeast Washington, at Life Pieces to Masterpieces. An arts-based youth development organization, Life Pieces serves boys and young men ages 3 to 21 living in low-income and public housing east of the Anacostia River. Monday morning, organization leaders arrived to find that vandals had broken into the building. Windows were shattered, paint was splattered everywhere, computers were smashed, the flat-screen TV was stomped and art work created by the kids was destroyed. The damage was estimated at $10,000.

A group of FSE students from AU was scheduled to help Life Pieces plant a butterfly garden, but instead spent Tuesday assisting with the cleanup inside. It was an effort that did not go unnoticed by Life Pieces staff.

As program founder Larry B. Quick sat dejectedly on a step in a vacant classroom, he perked up, however briefly, when discussing the AU students' efforts.

"It's beautiful to have other students that have nothing to do with this place help us out," he said. "I think this will create a passageway for other people. It gives our kids a different look at college life. College isn't just about education and getting a good job. It's about a cultural transformation, producing well-rounded individuals. [Some of our kids] don't know that college students volunteer and support causes, that they're a part of the community."

By Wednesday the AU students were back outside, planting mist flowers, black-eyed Susans, and narrow leaf mountain mint in the butterfly garden, which is part of Life Pieces' "Black and Green in D.C." program, designed to expose inner city youth to the environment.

"I wanted to see parts of D.C. besides the ones you usually tour," said Anthony Kakoyannis, of Stuart, Fla. "This program is awesome. It's innovative, and it's helping people who really need help. It's been great to have this experience. I'm really glad I did this."

A sentiment shared no doubt by 639 tired—but hopeful and upbeat—other AU freshmen.