Campus News
Commitment to Service Earns AU National Recognition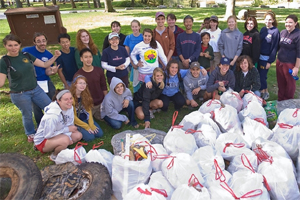 American University has been named to the 2008 President's Higher Education Community Service Honor Roll of exemplary service efforts.  This marks the third time AU has received the accolade, being named to the honor roll "With Distinction" in 2006 and 2007.

A total of 635 schools were named to the honor roll. Schools receiving this recognition provided exceptional community service during the past year contributing their time, resources, energy, skills and intellect in service to America.
Some of AU's community service efforts include:
Service-Learning courses offered through AU schools and colleges, such as a writing course that addressed school equity issues;  
D.C. Reads , an off-campus literacy project aimed at improving the reading level of children in grades K-8; 
Facilitating Leadership in Youth , a summer camp that engages young people outside of the school year to strengthen their learning using creative, fun and recreational activities;  
Alternative Break Program , including a trip to Chicago focused on working with urban youth; 
Latino Youth Conference , a yearly event promoting Latino culture, identity, and student leadership among high school students in the Washington, D.C. area;  
DC Today… DC Tomorrow , a local community organization dedicated to fostering leadership in the District's inner-city youth through service learning. 

Launched in 2006, the honor roll is the highest federal recognition a school can achieve for its commitment to service-learning and civic engagement. Honorees for the award were chosen based on a series of selection factors including scope and innovativeness of service projects, percentage of student participation in service activities, incentives for service, and the extent to which the school offers academic service-learning courses.