Alumni
Mentors, Connection Points—Keys to Success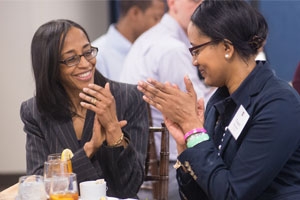 Lori Billingsley, SOC/MA '91, vice president of community relations for Coca-Cola Refreshments, believes in the power of mentors. Having someone to help guide you through the working world is an integral element of professional success, Billingsley said—and that advice has been impactful throughout her career.

"One of my first mentors had me do a five-year career plan, [which] really helped focus me on where it was I wanted to go," Billingsley said of her early interest in public relations. "At the end of those five years, I had accomplished everything that was on that list. It was through the power of focusing on what I wanted to do, and also having mentors along the way who were able to help me get where I wanted to go. … Listening to others who have gone down the path you're trying to go is very powerful."

Billingsley spoke to a group of AU students, staff, and alumni on February 25 at the semester's first Alumni in the KNOW event. Launched in 2012 by the AU Alumni Association, Alumni in the KNOW is a distinguished alumni speaker series featuring AU graduates sharing their pathways to success. Billingsley, who saw her participation in the series as a way to give back to the AU community, focused her presentation on cultivating relationships with mentors, embracing diversity in the workplace, and recognizing the value of "connection points," or shared commonalities between people.

Billingsley credited much of her success to her mentors, including one of her undergraduate professors at Howard University who has been instrumental in each job that Billingsley has held. She also expressed gratitude for an AU alumna, who was influential in bringing Billingsley to Coca-Cola, though they didn't realize their "connection point" until after Billingsley started.

"That AU connection—make sure you maintain that," Billingsley said. "We live in such a global society; it's not just about the United States, it's not just about North America. It's about the whole wide world that's out there and really having a worldview and understanding global issues and understanding that everything is connected."

On top of cultivating strong mentorship relationships and finding shared experiences with your coworkers, it is also important to work hard and perform above others' expectations, Billingsley added. As an African-American woman, Billingsley has seized opportunities for diverse candidates that have come her way—but stresses that doing the job well is just as important as getting through the door.

"At times, when you are the person of color, there's a tendency to be pigeonholed into just doing diversity stuff, and so I think as you're going on and making your career choices, you need to decide if that is something you want to do," Billingsley said while discussing her vice presidency with Porter Novelli, a leading PR firm. "And if it's not, you have to be very vocal about not wanting to do that. But I chose that and was able to co-start Porter Novelli's multicultural communications practice."

Billingsley left Porter Novelli to start her own public relations and communications consultancy, LG Communications, and later joined Coca-Cola. She has been with the Fortune 500 company for 11 years and has served in numerous roles within the Public Affairs and Communications (PAC) department. As vice president of community relations, she currently manages community giving and engagement in North America. A typical day might include working on a water replenishment project in Africa with USAID or sorting through thousands of requests for funding, which must fit within Coca-Cola's five focus areas of sustainable packaging, active and healthy lifestyle, diversity and inclusion, water stewardship, and education.

Her job is multifaceted and never really stops, Billingsley said—"I'm a master multi-tasker," she joked—and in today's evolving workplace, AU students and alumni should expect the same level of high expectations, she added. Strong writing and public speaking skills are essential in any profession, Billingsley said, and an understanding of the politics and hierarchy of your workplace is also important. But most key, according to Billingsley, is being truly passionate and invested in your career: Be able to envision and articulate what you want to do with your life, from applying for internships to attending graduate school, and work tirelessly and with experienced, intelligent people to make it happen.

"Be well read, be knowledgeable, be able to know what's going on in the world and in the country and in business and politics and culture and in our community, so when you're out there meeting other people, you can have a point of entry, a point of contact, a commonality," Billingsley said. "If you make a commitment to do something … do it, and with excellence. The final product should be something you would be proud of, and something your parents would be proud of. The more integrity and character you have, that is a differentiation point for you in the workforce."

Billingsley's talk resonated with attendees, including Tangela Richardson, SOC/MA '13, who said Billingsley's advice encouraged her to "not be afraid to try something new and different."

"Lori's talk inspired me professionally to take more risks in terms of my career … to set high standards and achieve with excellence," Richardson said. "Hard work, dedication, and perseverance pay off for complete success and complete happiness."

The next Alumni in the KNOW event, featuring SOC alumnus Jim Kennedy, senior vice president of strategic communications for Sony Corporation of America, is scheduled for Wednesday, March 27.