On Campus
Every Day Is Veterans Day at AU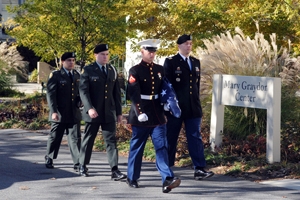 In welcome news for former military service members on campus, a new veterans lounge and resource center is opening in Asbury Hall. A ribbon cutting for the new lounge was set to coincide with Veterans Day on Monday, November 11th.
This is another sign that American University officials are striving to make this a military-friendly campus. Through support programs and tuition assistance, AU has created a hospitable environment for former service members making the transition back to civilian life.
For the upcoming December issue, AU has been selected as a top military-friendly school by Military Advanced Education, a journal of higher learning for service members. Earlier this year, Victory Media, the publisher of GI Jobs magazine, named AU as one of its Military Friendly Schools for 2014.
Michael Carberry is faculty adviser for the student military group AU Vets, and he believes the school administration has gone out of its way to help veterans.
"I'm the current adviser to AU Vets, and I hear no complaints from anybody. And I've been doing this for three years," says Carberry, an executive in residence in the Marketing Department who served two tours in Vietnam.
The New Lounge
See photos from the Veterans Lounge opening.
For the past several years, the AU Vets student group lobbied for a veterans' meeting space on campus. When academic space was reorganized in Asbury, a decision was made to put the lounge there. It was conveniently placed next to AU Central, where Veterans Services Administrator Valerie Verra is located.
The lounge is about 600 square feet, with glass entry doors, says Vice President of Campus Life Gail Hanson, who was heavily involved in getting the lounge opened.
There's a sink and counter for food events, as well as sofas, chairs, and work tables. A military services flag will hang on the wall.
But more than just the amenities, the lounge is expected to be a place for veterans on campus to congregate.
"This is really the space to bring everyone receiving GI Bill benefits on campus together, and provide them with the resources they need to succeed," says James McRedmond, the former president of AU Vets who served in Iraq and Afghanistan. "It will just be great to get to know a majority of them."
A Military-Friendly Campus
Since 2009, the AU student veteran population increased from roughly 80 students to about 280 students, Verra says. And the increased presence of veterans requires greater attention to tuition financing and benefits.
Verra was formerly an associate director of AU Central, where part of her responsibility was to certify veterans for their VA benefits. "It was supposed to be about 20 percent of my job, and it soon became like 80 percent of my job." Since she enjoyed this work, she lobbied to make her position devoted to veterans full-time.
She is now almost exclusively focused on certifying students' registration to the VA, which gives some tuition money directly to students and covers some costs for the university. AU also kicks in money for student veterans through the Yellow Ribbon Program.
Student veterans and faculty have praised the work by Verra. "In my experience, [the administration] bends over backwards to make sure that eligible vets get every dime they can," says Carberry.
In addition, organizations have been established to ensure that veterans' needs are addressed. The AU Veterans Liaison Network, now chaired by Marianne Huger Thomson, meets monthly to consider ways to improve the college experience of former military service members. A delegate from AU Vets also participates to provide a student perspective.
"We're really up for trying new things to support this population," says Thomson.
For instance, the Academic Support and Access Center has provided some bridge workshops to help older, nontraditional student veterans adapt to new technologies and learning methods. "The means of instruction, and the use of a lot of technology, is often different from when they were in school," says Hanson.
Cultural Adjustments
University officials have worked to make veterans feel comfortable in a new environment. College campuses can be radically different from military bases, and they're much less regimented.
"They've left a very structured environment," says Verra. "They're used to having a commanding officer, and they don't have that. So it's just a big adjustment."
Age is one of many cultural barriers between traditional civilian students and military veterans.
"A lot of these veterans are returning to school after being away, or they have families now," says Thomson. "Integrating into a classroom of people who have very different life experiences can be difficult."
"I'm 25. I have a wife and an 11-month-old baby girl," McRedmond explains. "So there are a lot of different things that we have to juggle."
The new lounge could help with this transition, enabling student veterans to meet with like-minded people dealing with the same pressures.
Bridging the Gap
Several administrators praised the civilian students for being respectful and supportive of veterans. Earlier this year, for example, AU and other D.C. area university students teamed up to compete in the Solar Decathlon, building and promoting an ecologically responsible house. Voluntarily, the team donated the home to a wounded warrior.
Patricia Leslie, now a graduate student in the School of Public Affairs, has been involved with AU Vets since her undergraduate days.
"It's been a really great thing to be involved with," Leslie says. "There is sort of a cultural divide, but once you get used to how veterans talk, they're really just great at embracing the civilians."
And the feeling is certainly mutual, with university administration officials expressing gratitude for being able to assist veterans.
"They are extremely motivated and extremely respectful, and just a pleasure to work with," Verra says.